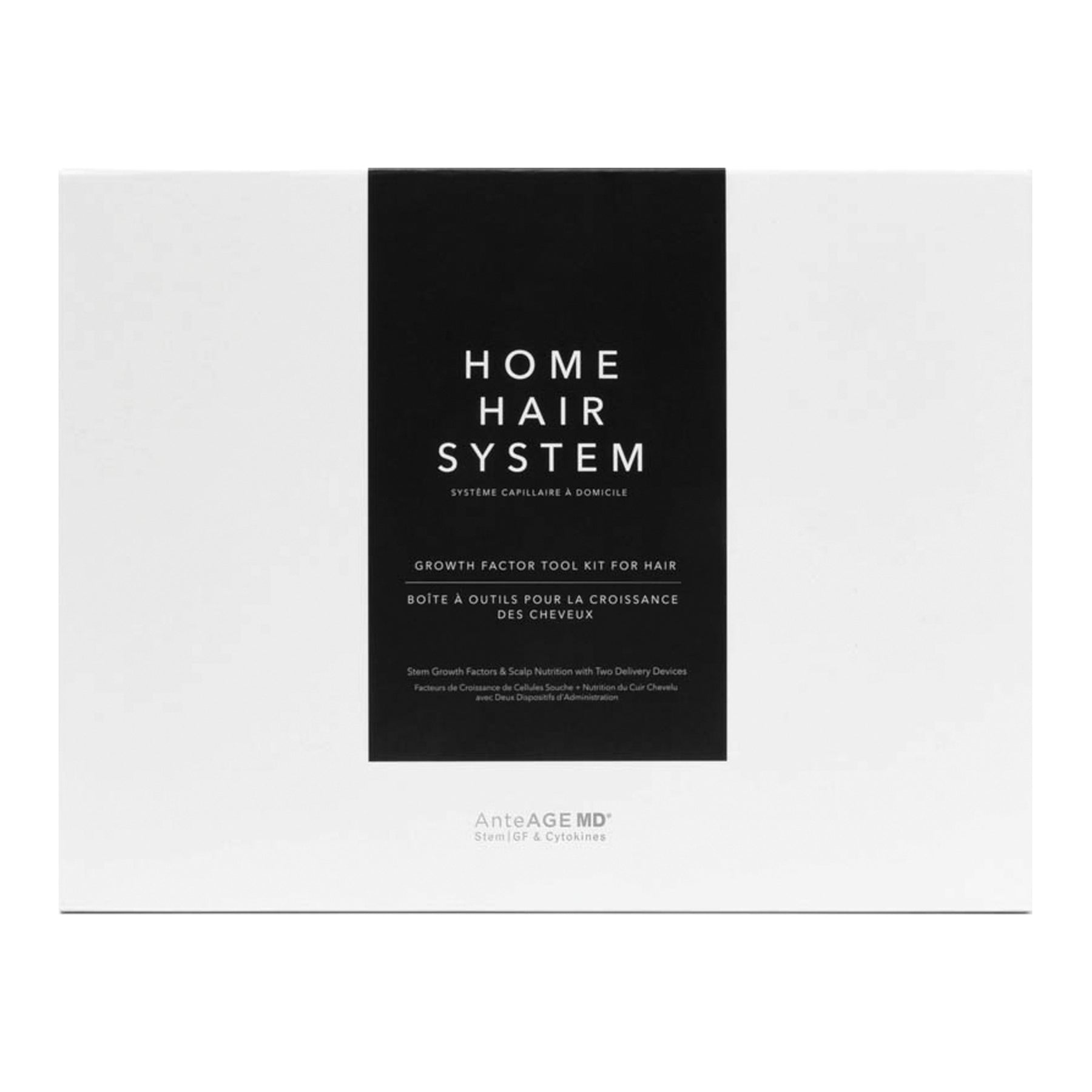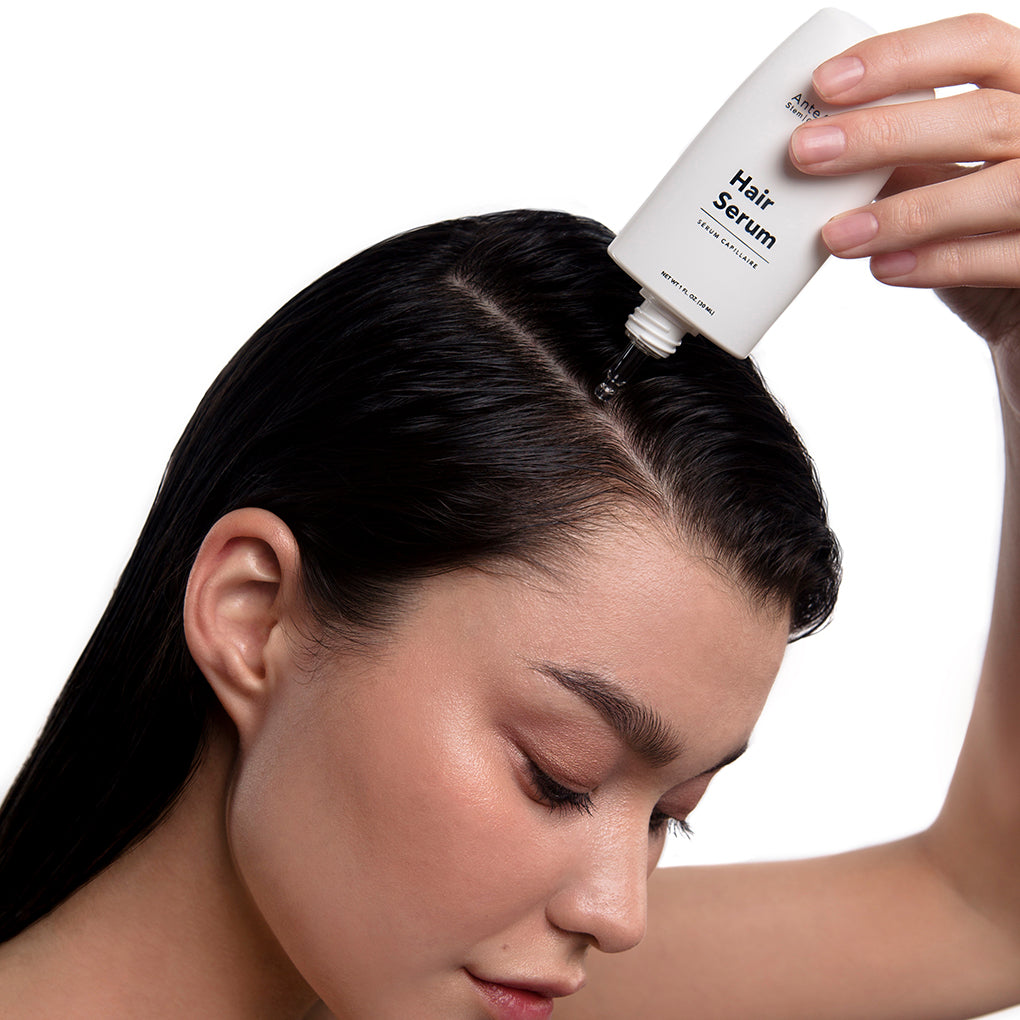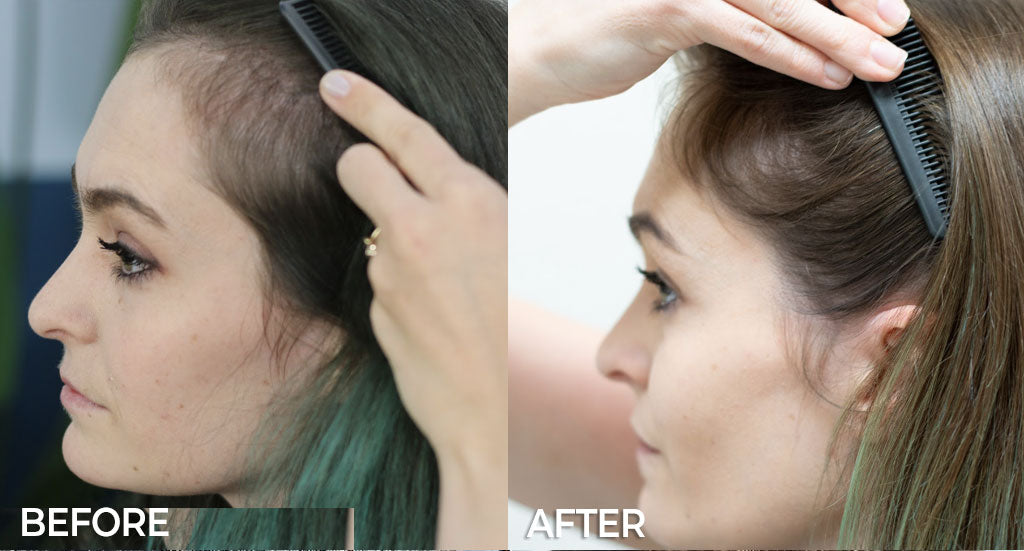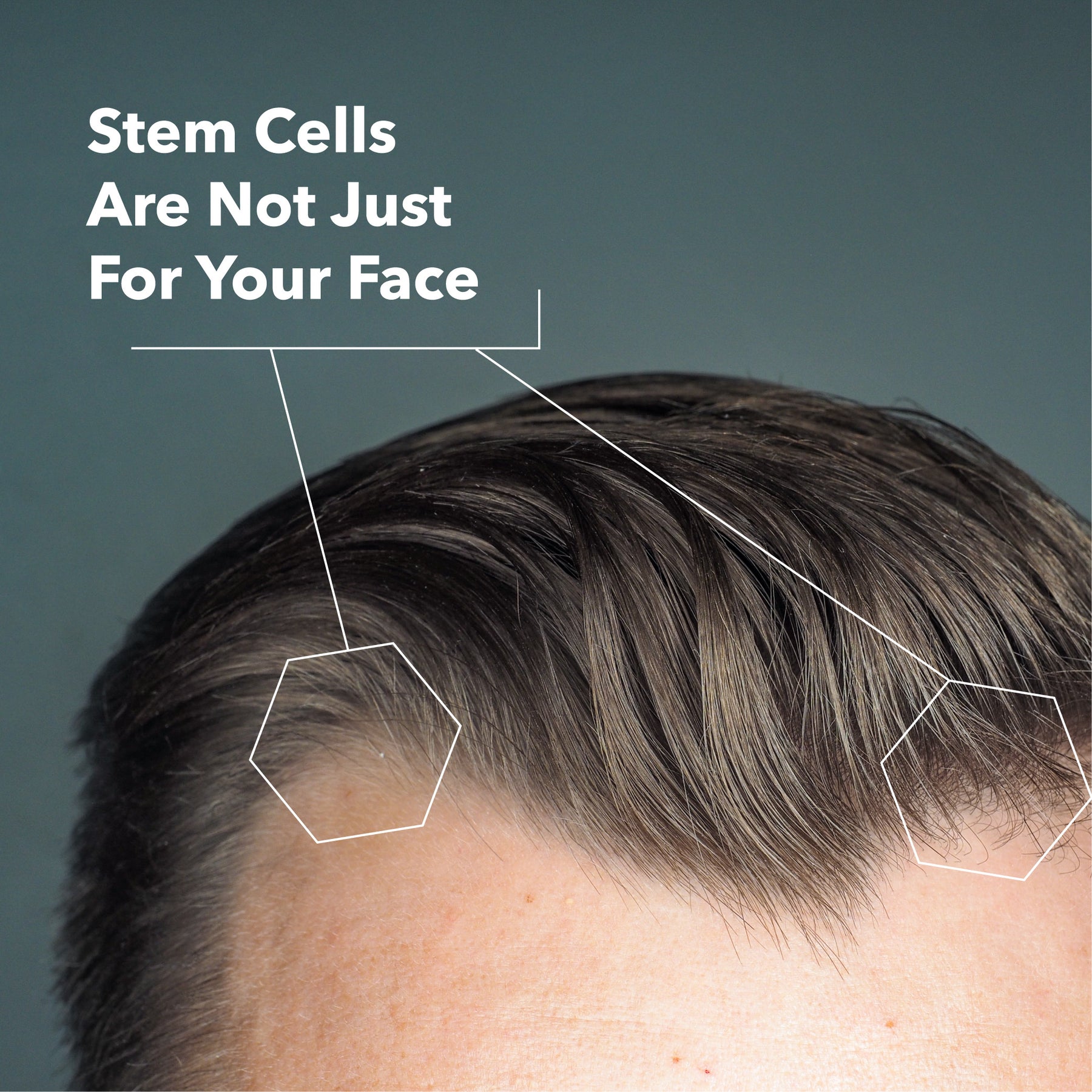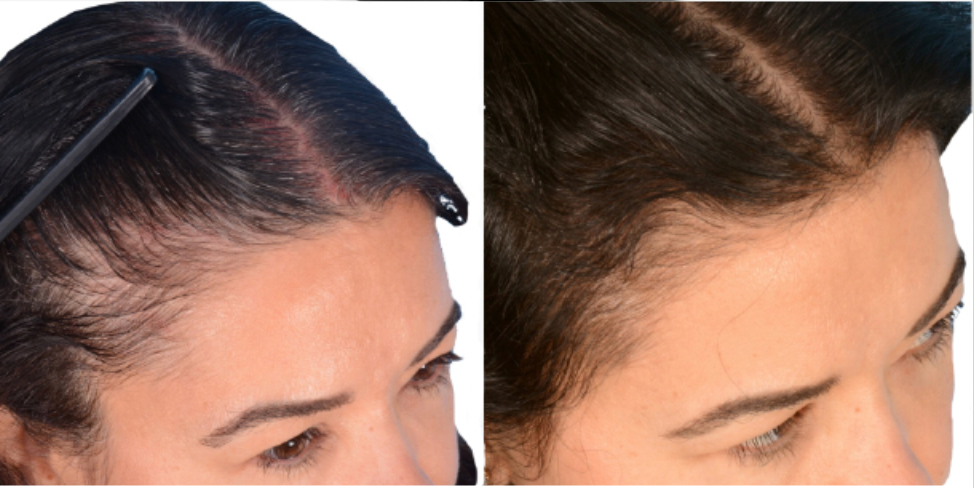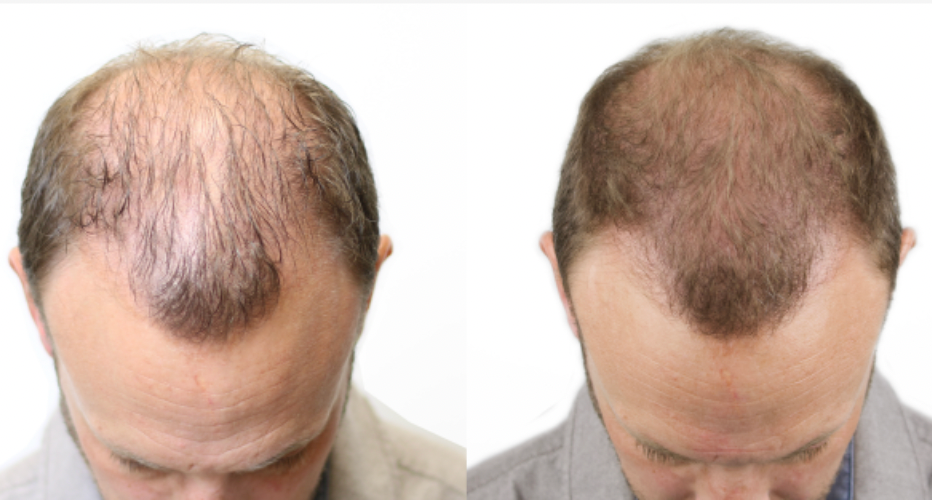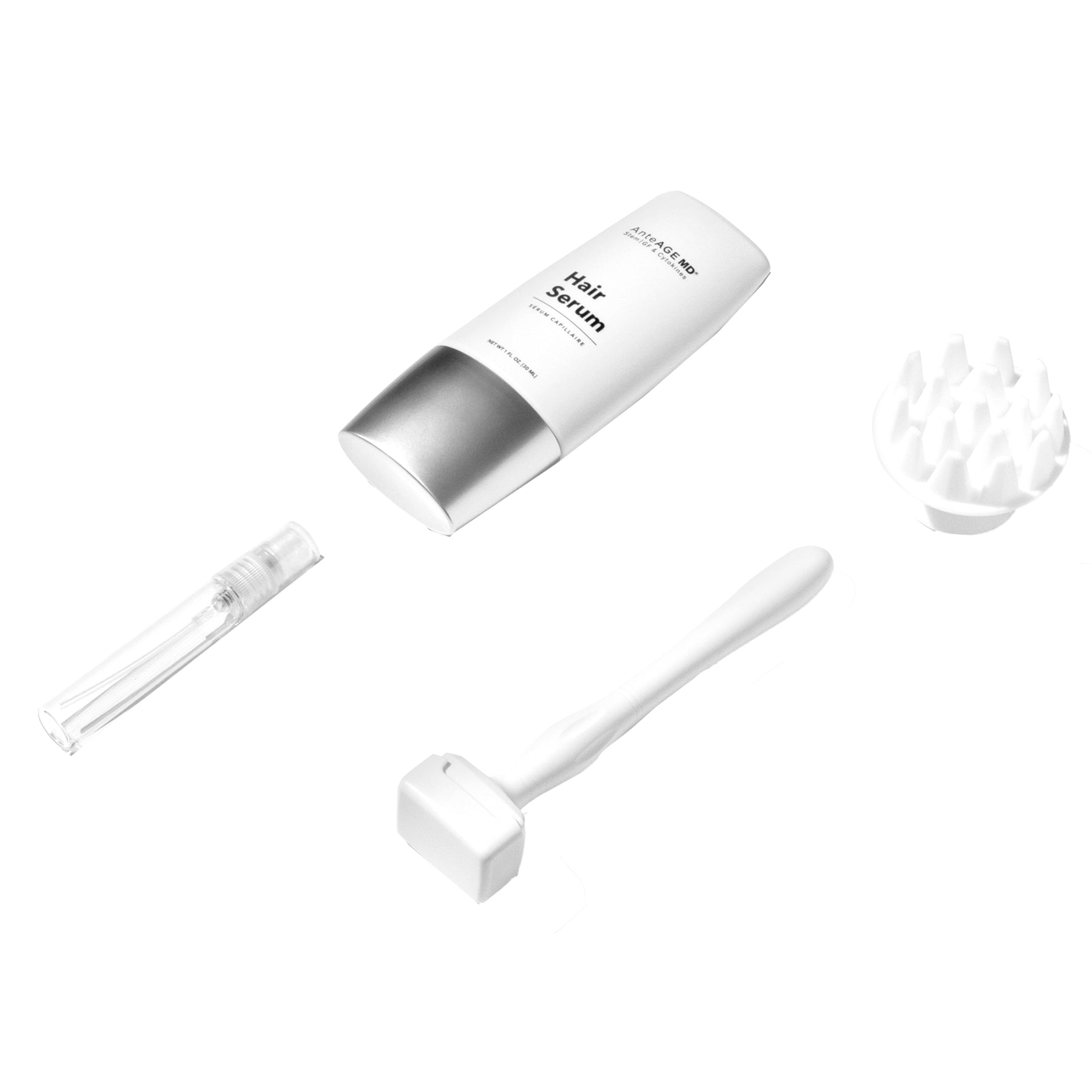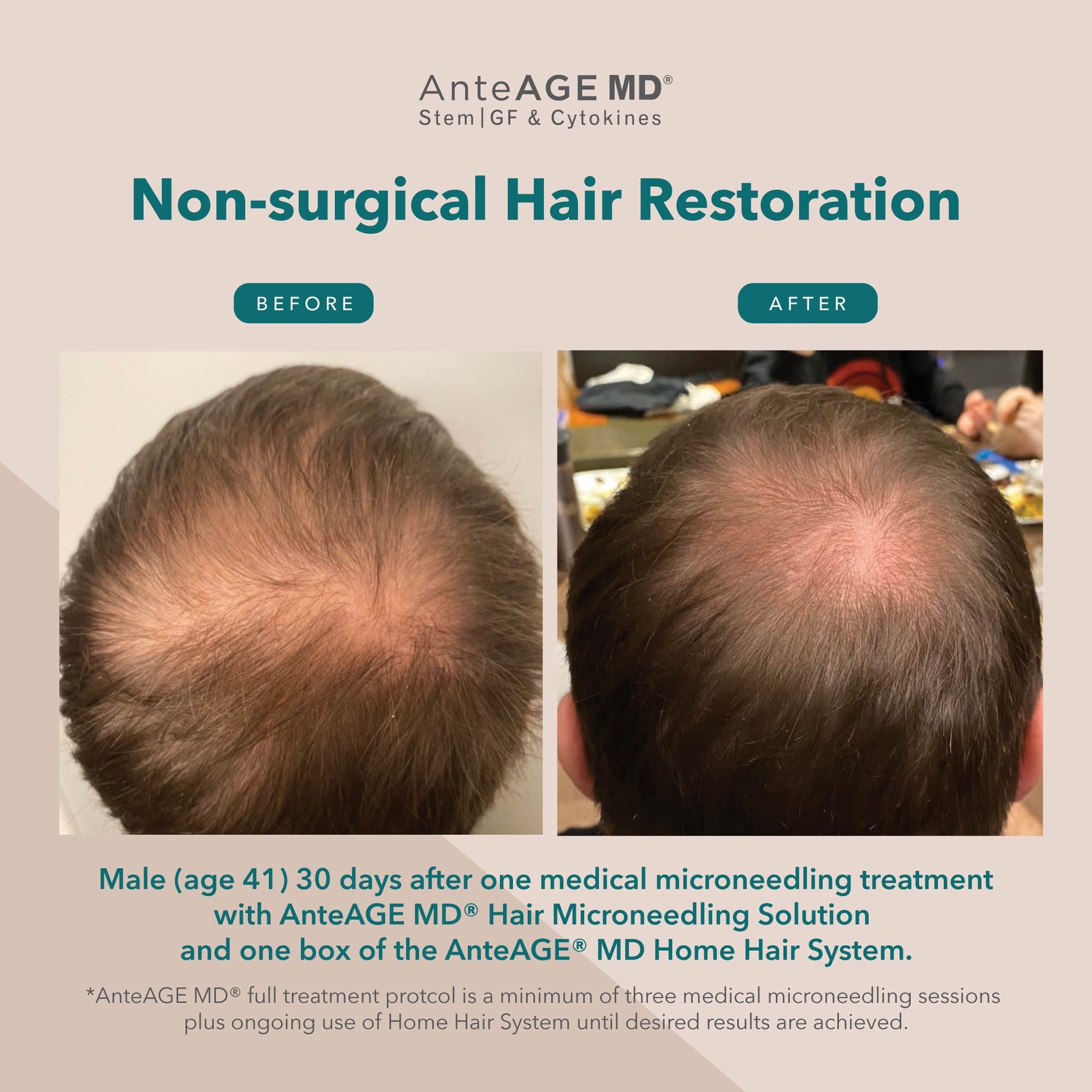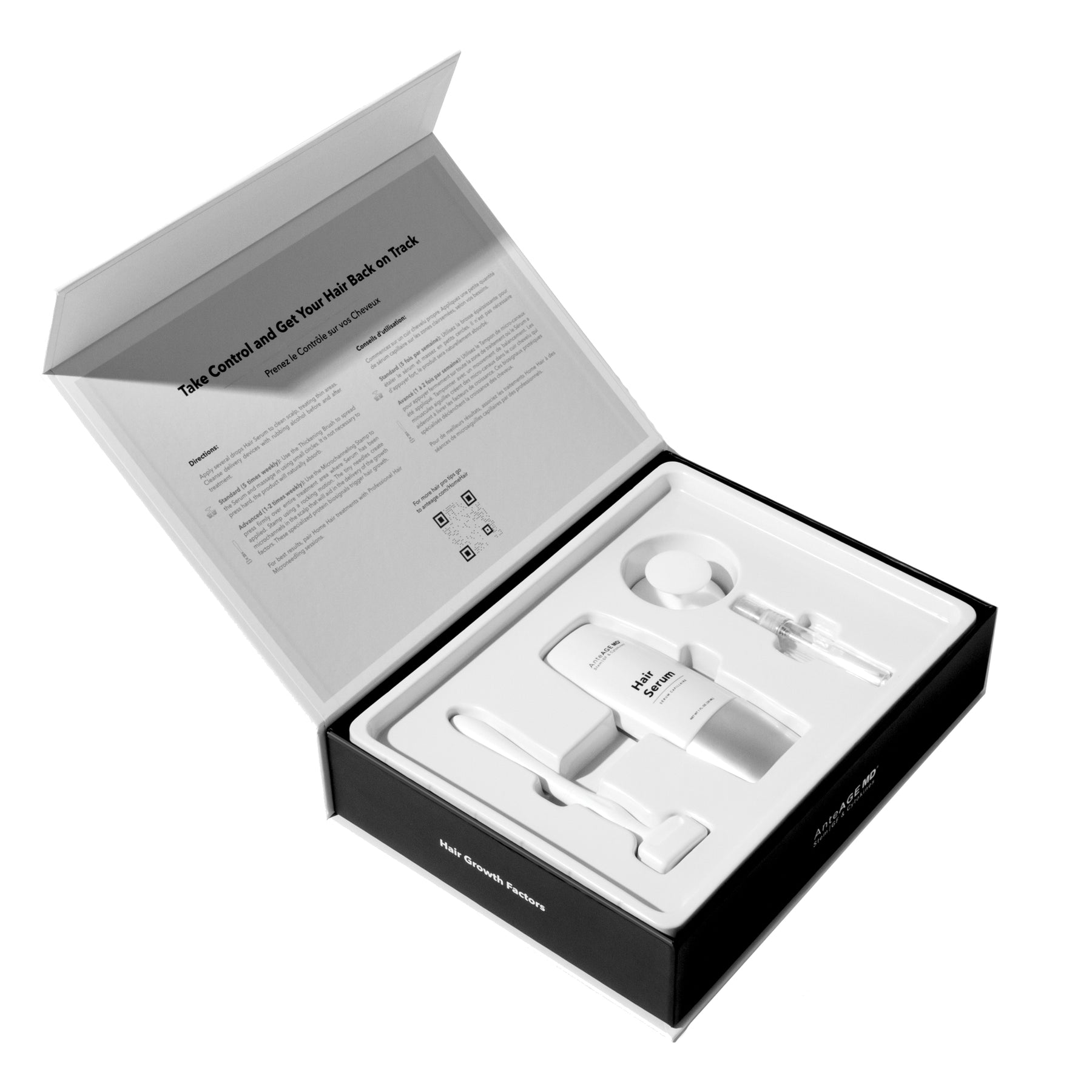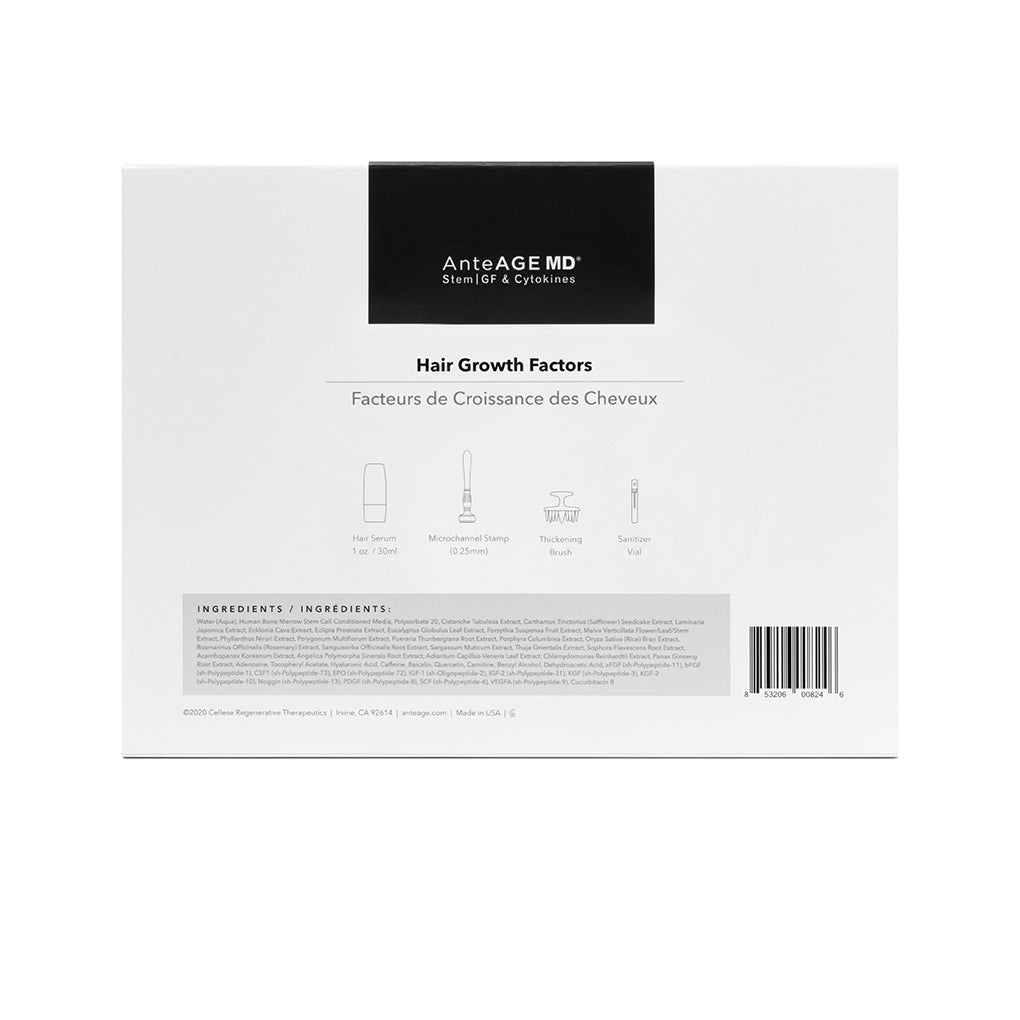 Home Hair System
AnteAGE® MD Home Hair System ::
For all skin/hair types, all ages

Benefits ::
The AnteAGE MD Home Hair System simplifies hair regrowth treatments at home by combining all the tools needed to stimulate hair follicles and promote natural, healthy hair growth, without surgery or hormonal side effects.

This product is currently not available for international orders.
DESCRIPTION
Includes: AnteAGE MD® Hair Serum, Thickening Brush, Sanitizer Vial
The power in the system comes from WNT1 Growth Factors and Cytokines that specifically signal to the dormant stem cells inside the hair follicles to regenerate and return to normal growth patterns. We have combined these growth factors with polybotanicals proven to stimulate circulation and blood flow while keeping inflammation low. Together, this formula in our Hair Serum creates an optimal environment for healthy hair growth.
The application of Hair Serum comes with a handheld dermal needling device to enhance product penetration and a thickening brush to gently stimulate follicles.
Contains 1 OZ :: 30 ML of Hair Serum
HOW TO USE
HOME CARE
Application and Usage

Apply several drops to clean scalp in thinning area. Cleanse delivery devices with rubbing alcohol before and after treatment. For ease of use, apply Hair Serum in the evening and allow product to absorb as you sleep. Using Home Hair System consistently will yield the best results.
Standard ( 5 times weekly):
Use the Thickenning Brush or fingertips to spread yhe Hair Serum and massage in using circles for 10-20 second per area. It is not necessary to press hard, the product will naturally absorb.
Advanced ( 1-2 times weekly):
Apply a few drops of Hair Serum to a clean scalp and use the Microchanneling Stamp to gently press up and down over entire treatment area. The tiny needles create microchannelss in the scalp that will ais in the delivery of the growth factors from the serum. You do not need to press hard with the stamp.
The Home Hair System works the best when paired with professional hair treatments such as PRP or Microneedling.
INGREDIENTS
Water (Aqua), Human Bone Marrow Stem Cell Conditioned Media, Polysorbate 20, Cistanche Tubulosa Extract, Carthamus Tinctorius (Safflower) Seedcake Extract, Laminaria Japonica Extract, Ecklonia Cava Extract, Eclipta Prostrata Extract, Eucalyptus Globulus Leaf Extract, Forsythia Suspensa Fruit Extract, Malva Verticillata Flower/Leaf/Stem Extract, Phyllanthus Niruri Extract, Polygonum Multiflorum Extract, Pueraria Thunbergiana Root Extract, Porphyra Columbina Extract, Oryza Sativa (Rice) Bran Extract, Rosmarinus Officinalis (Rosemary) Extract, Sanguisorba Officinalis Root Extract, Sargassum Muticum Extract, Thuja Orientalis Extract, Sophora Flavescens Root Extract, Acanthopanax Koreanum Extract, Angelica Polymorpha Sinensis Root Extract, Adiantum Capillus-Veneris Leaf Extract, Chlamydomonas Reinhardtii Extract, Panax Ginseng Root Extract, Adenosine, Tocopheryl Acetate, Hyaluronic Acid, Caffeine, Baicalin, Quercetin, Carnitine, Benzyl Alcohol, Dehydroacetic Acid, aFGF (sh-Polypeptide-11), bFGF (sh-Polypeptide-1), CSF1 (sh-Polypeptide-73), EPO (sh-Polypeptide-72), IGF-1 (sh-Oligopeptide-2), IGF-2 (sh-Polypeptide-31), KGF (sh-Polypeptide-3), KGF-2 (sh-Polypeptide-10), Noggin (sh-Polypeptide-13), PDGF (sh-Polypeptide-8), SCF (sh-Polypeptide-4), VEGFA (sh-Polypeptide-9), Cucurbitacin B
FAQS
ARE YOUR PRODUCTS SUITABLE FOR MY SKINTYPE?
Our products are suitable for all skin types. However, if you have extremely sensitive skin and/or are unsure please consult with your doctor or contact us.
HOW MUCH PRODUCT SHOULD I USE?
How much you use depends on the treatment area. We suggest roughly 3 to 5 drops on the scalp. You want to make sure you are not using too much and are applying directly to the scalp, not onto the hair.
WILL THIS PRODUCT MAKE MY HAIR OILY?
The hair may appear slightly oily right at the roots, but this is very limited, as again, you should apply to the scalp, not the hair.
HOW LONG WILL THIS KIT LAST?
Our Home Hair Kit lasts approximately 3 months; however, that is completely dependent on the surface area treated. Most people treat smaller surface areas (crown or receding hairline). If treating an entire scalp, the product will last approximately one month.
WHEN CAN I EXPECT RESULTS?
We cannot offer dates on expected results as everyone's hair regeneration journey is different, and we recommend using out Home Hair Kit along with professional hair regeneration treatments after consulting with your dermatologist or other healthcare provider.
CAN I USE THIS ON FACIAL HAIR?
Yes! The home hair kit works great on facial hair!
IS THIS PRODUCT SAFE ON COLOR-TREATED HAIR?
This product is safe on color-treated hair. You can wait a few days after getting your hair treated before starting the home hair kit to allow your color product to rest and fully saturate on its own.
I ONLY WASH MY HAIR TWO TIMES A WEEK. HOW CAN I INCORPORATE THESE PRODUCTS?
Use the microneedle stamp only on days your hair is freshly washed, with a slightly damp (towel dry) scalp, as this greatly improves skin absorption. On "no wash" days, use the Thickening Brush to massage the product into your scalp; you can also use your fingertips (just make sure to wash your hands afterwards!). With these "no wash" days, you can apply it morning or night, but we often recommend using it at night to allow ample absorption.
ANTEAGE RECOMMENDATIONS FOR HAIR MAINTENANCE
As far as maintenance it would really depend upon the cause, there are many causes of hair thinning/hair loss and so the answer would depend upon why they are experiencing this issue. As we know, many individuals are experiencing hair loss post covid, this is mostly due to telogen effluvium which is when the hair follicle experiences shock and sheds, in this case I would imagine that an individual would be able to stop using the product once they have reached the desired density, as telogen effluvium is not ongoing. If they are experiencing androgenetic alopecia, then they would typically want to be on a maintenance protocol which would mean that they would gradually taper off of the product and then they would want to use it every now and again to maintain those results, but unfortunately this tends to be subjective and would depend on the individual and the severity of the symptoms they are experiencing. You would need to consult with an aesthetic or medical provider for a more accurate recommendation on usage.