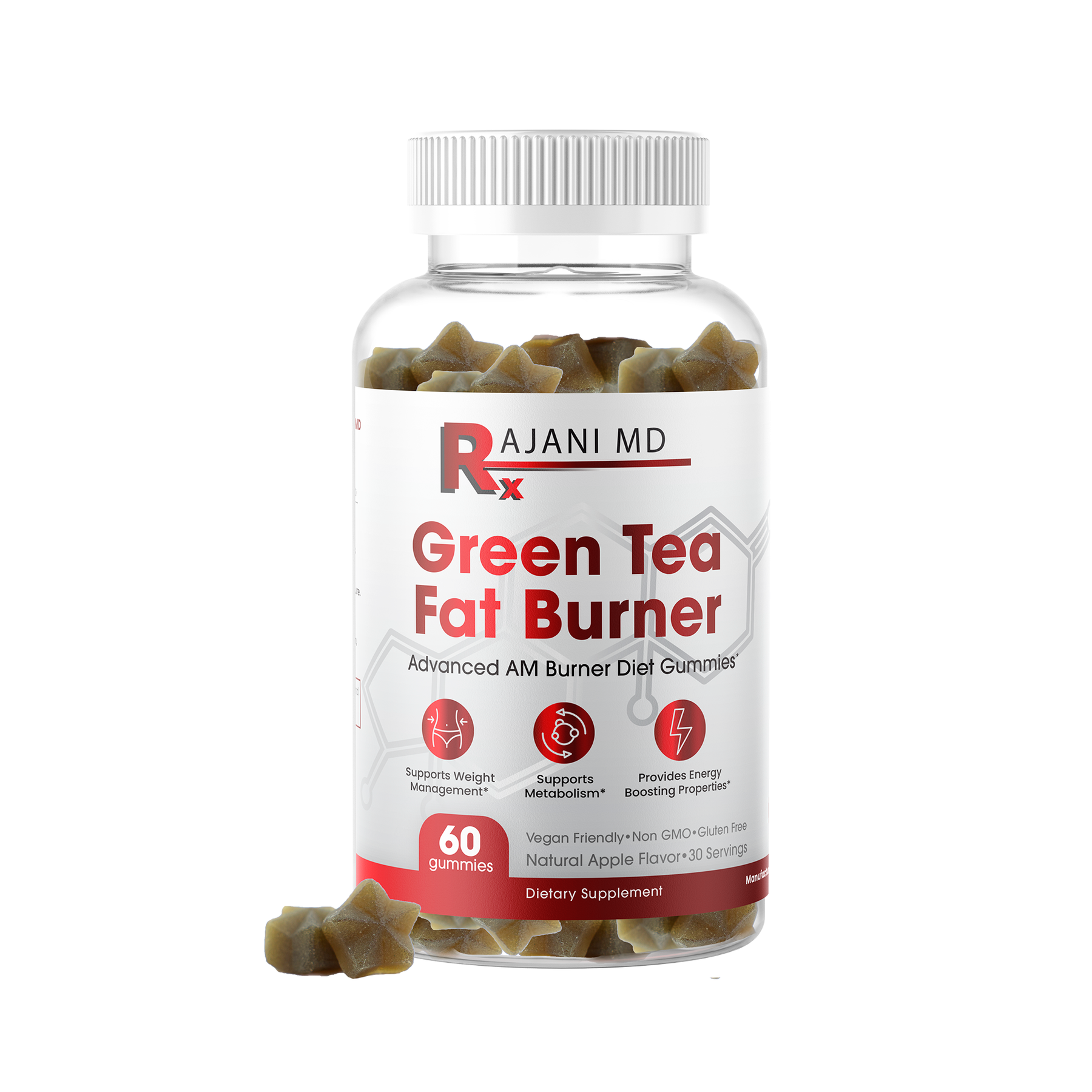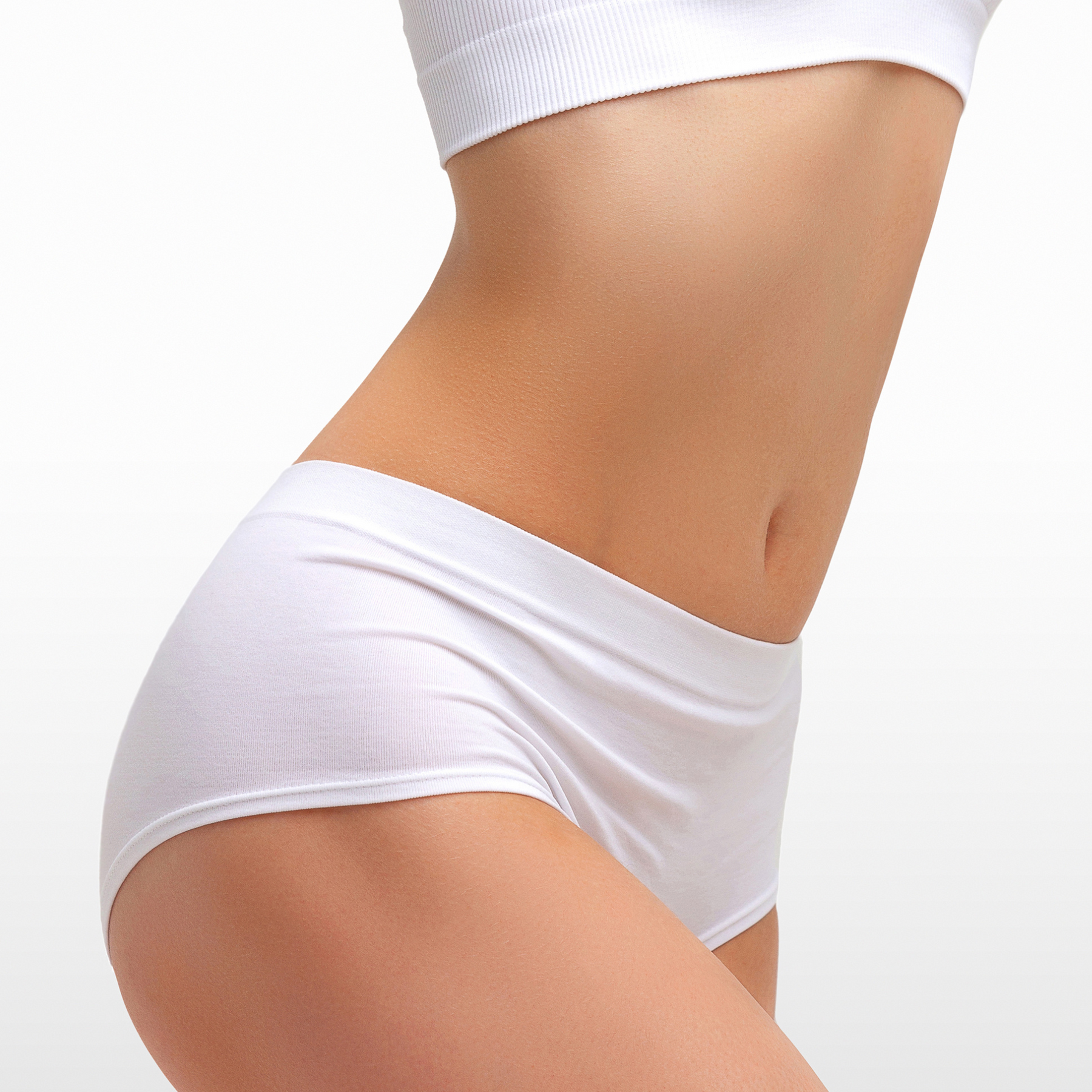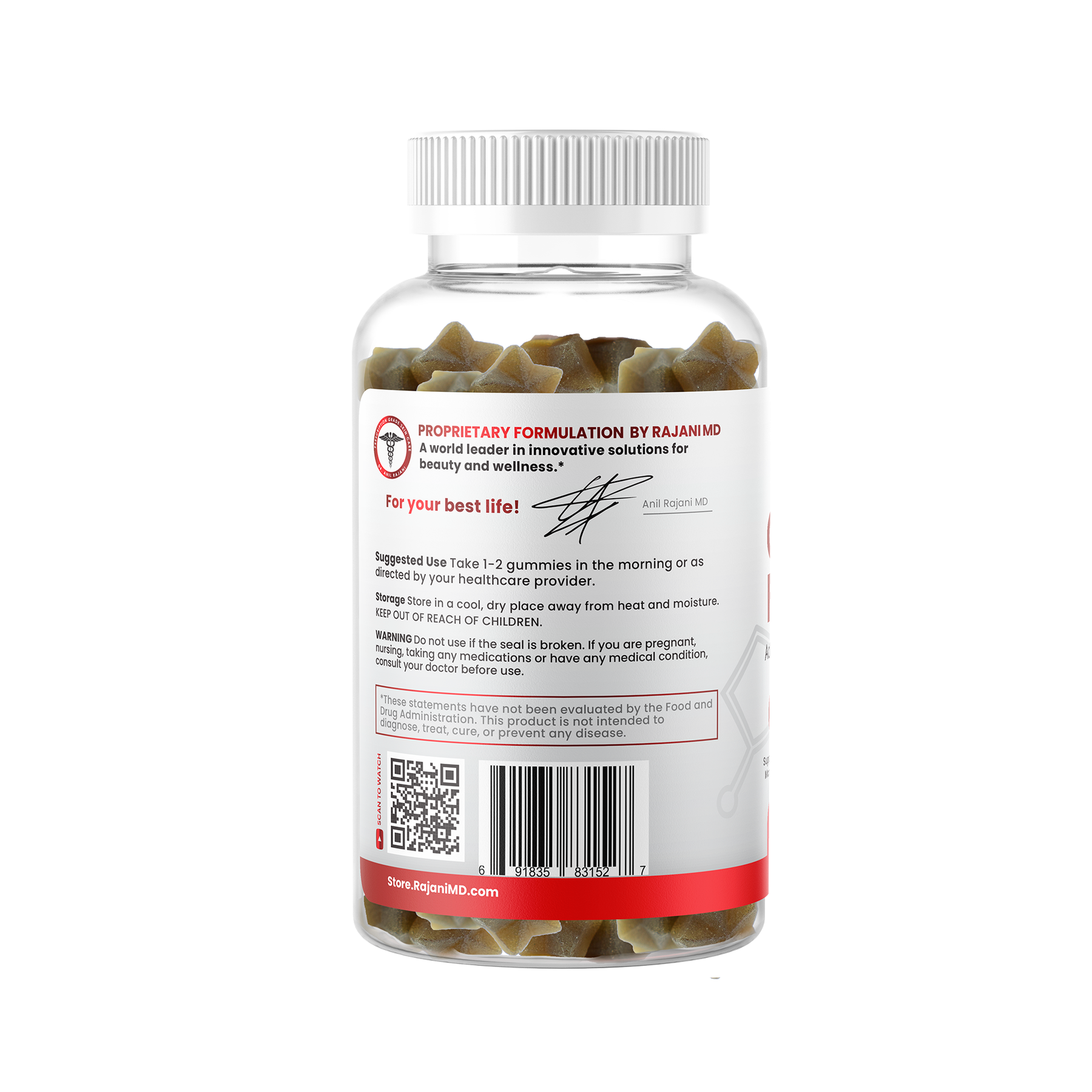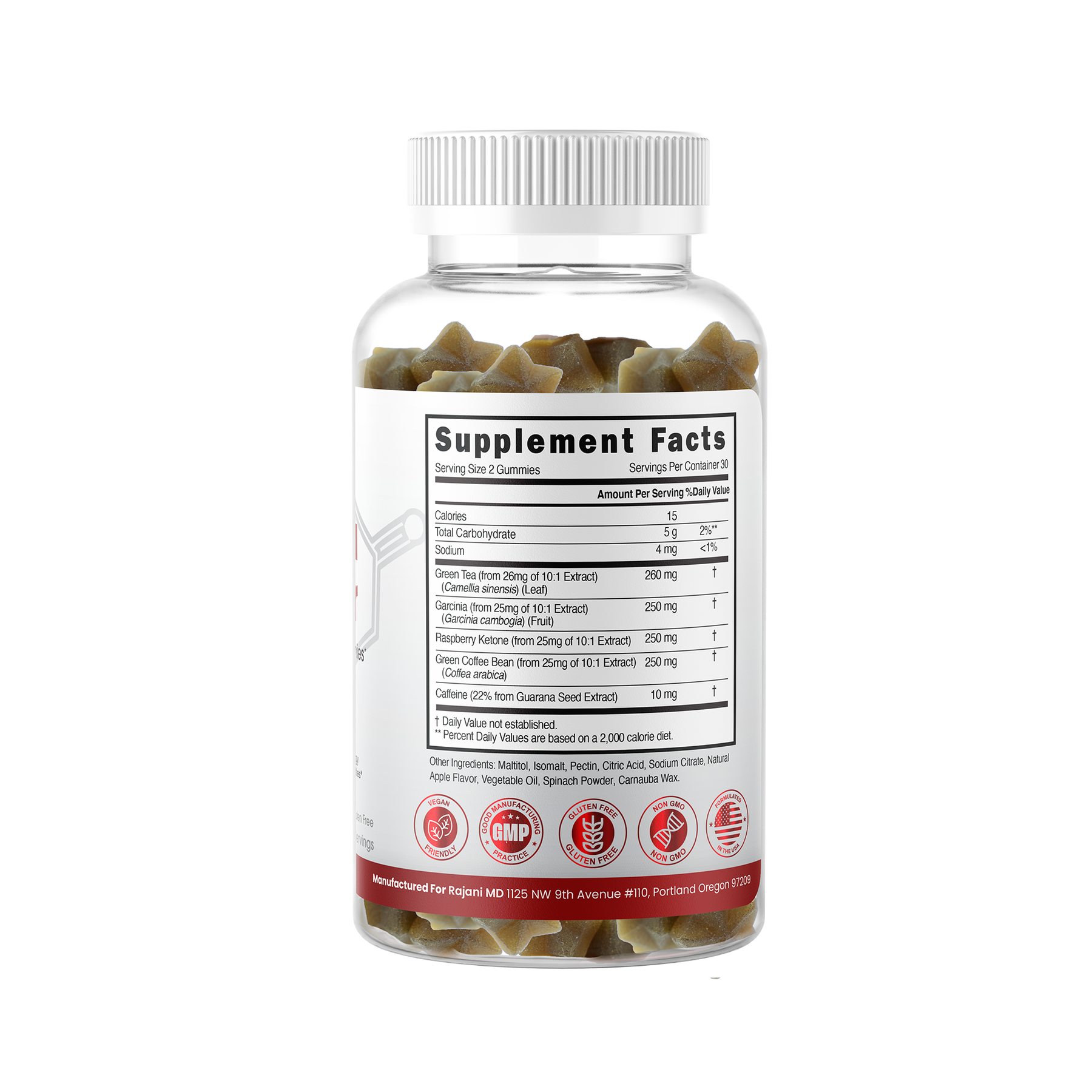 Green Tea Fat Burner Gummies
Your Morning Fat Burner Supplement ::
A potent source of antioxidants and fat-burning active ingredients in a convenient adult gummy

Benefits::
5 all-natural active ingredients clinically researched to boost metabolism, daily energy, and improve overall health
DESCRIPTION
5-active ingredient formulation specially developed to naturally boost your metabolism, give you energy, suppress appetite, and help you burn fat. Made with 100% natural ingredients, this is an excellent support that acts as a direct catalyst to your weight management goals.
This product is sugar-free, gelatin-free, vegan-friendly, gluten-free, allergen-free, non-gmo, naturally colored and flavored, specially made and formulated in the USA with quality global ingredients in an FDA registered and handled in a GMP facility. 
Product Facts:
Form: Pectin Based Gummies
Flavor: Natural Apple Flavor
Serving Size: 1-2 Gummies
Servings Per Container: 30-60 depending on serving size taken
KEY BENEFITS
Sugar Free 5-active Ingredient Gormula:
Garcinia fruit is naturally high in HCA (hydroxycitric acid) that has been clinically researched to block the production of fat and improve digestion.
Green tea has been popularly used for years for weight loss support - rich in antioxidants that help boost metabolism and break down excess fat.
Raspberry Ketone is the active ingredient in raspberries that has been researched to naturally increase fat burning and contribute to overall health.
Green Coffee Bean is a very popular weight loss and health supplement full of chlorogenic acid that has been researched to help control blood sugar and cholesterol levels. It is the coffee bean before roasting – so it still has all of its antioxidants and benefits for your health!
Natural Caffeine from Guarana seed extract is a great energy booster, appetite suppressant and helps to skyrocket your metabolism.
HOW TO USE
HOME CARE
Take 1-2 gummies in the morning or as directed by your healthcare provider. Stop use immediately if any adverse reactions occur.
This supplement works best to support a healthy diet with regular exercise.
Generally supplements can take from 3-6 weeks before you see noticeable changes.
INGREDIENTS
Active Ingredients:
Green Tea Extract (Leaf), Garcinia Cambogia Fruit Extract, Raspberry Ketone Extract, Coffee Bean Extract, Caffeine (22% from Guarana Seed Extract).

Inactive Ingredients: Maltitol, Isomalt, Pectin, Citric Acid, Sodium Citrate, Natural Apple Flavor, Vegetable Oil, Spinach Powder, Carnauba Wax
TIPS FROM DR. RAJANI
Use this supplement with a healthy diet and exercise plan to accelerate your goals and overall health
This product is pectin based so the gummies do not melt as easily – but still it is keep out of your hot car and out of direct sunlight to preserve the vitamin and antioxidant integrity
FAQS
ARE YOUR PRODUCTS SUITABLE FOR MY SKINTYPE?
Our products are suitable for all skin types. However, if you have extremely sensitive skin and/or are unsure please consult with your doctor or contact us.
WHEN SHOULD I TAKE THIS?
It is best to take this product in the morning before your first meal.
DO THESE HELP WITH FACIAL FAT?
They are more designed to aid in fat burning. But you may Want to try our PlasamaRestore gummies, which are designed for the face.