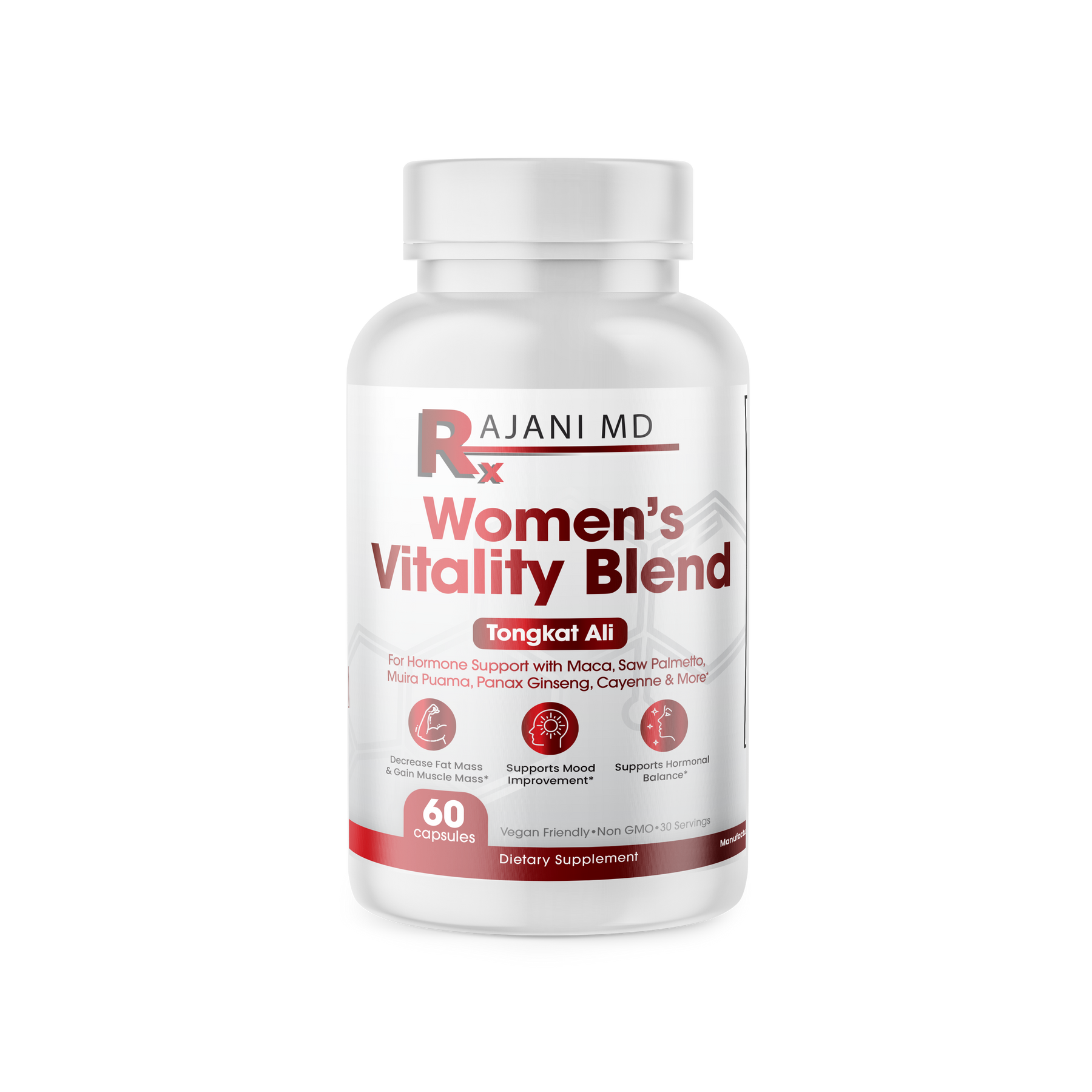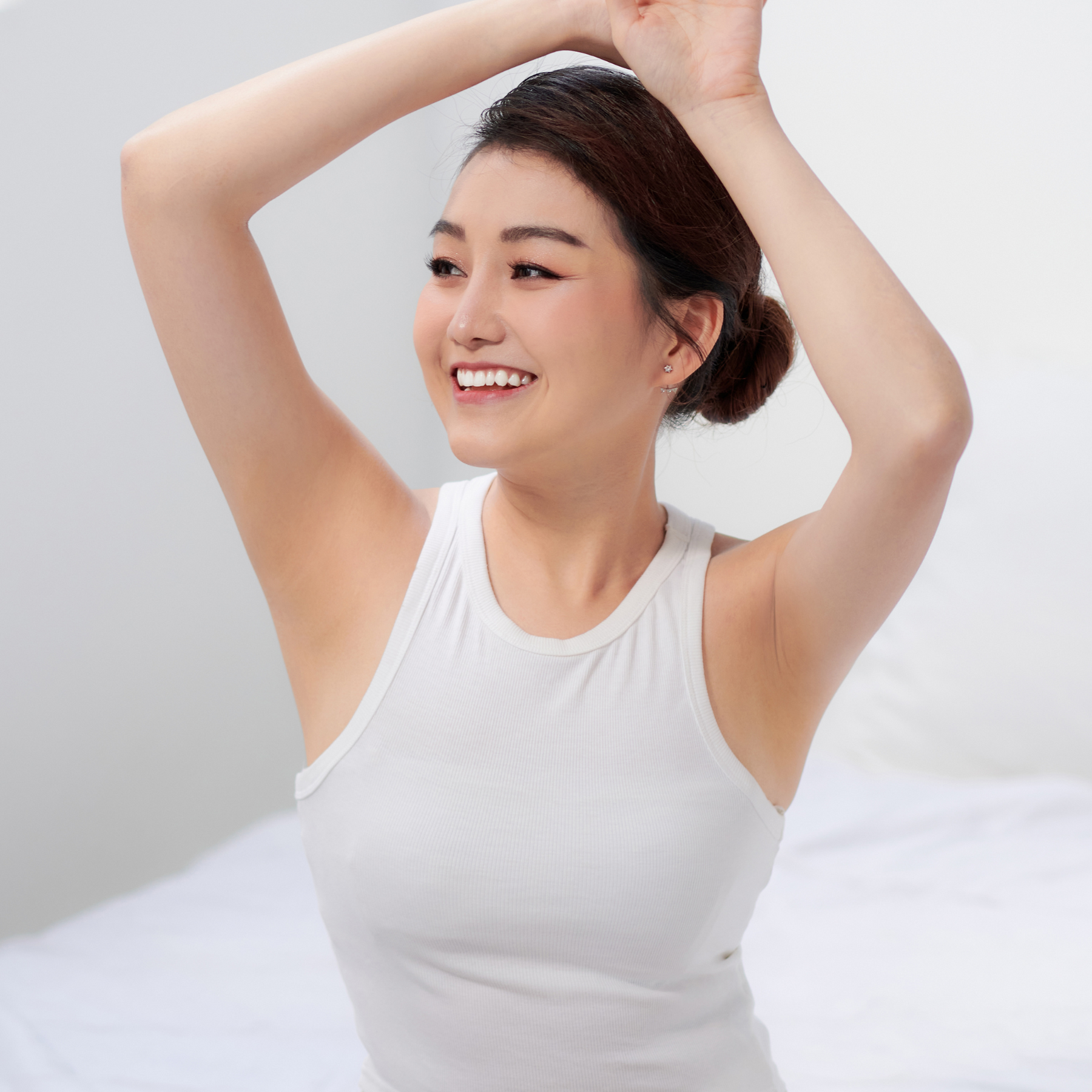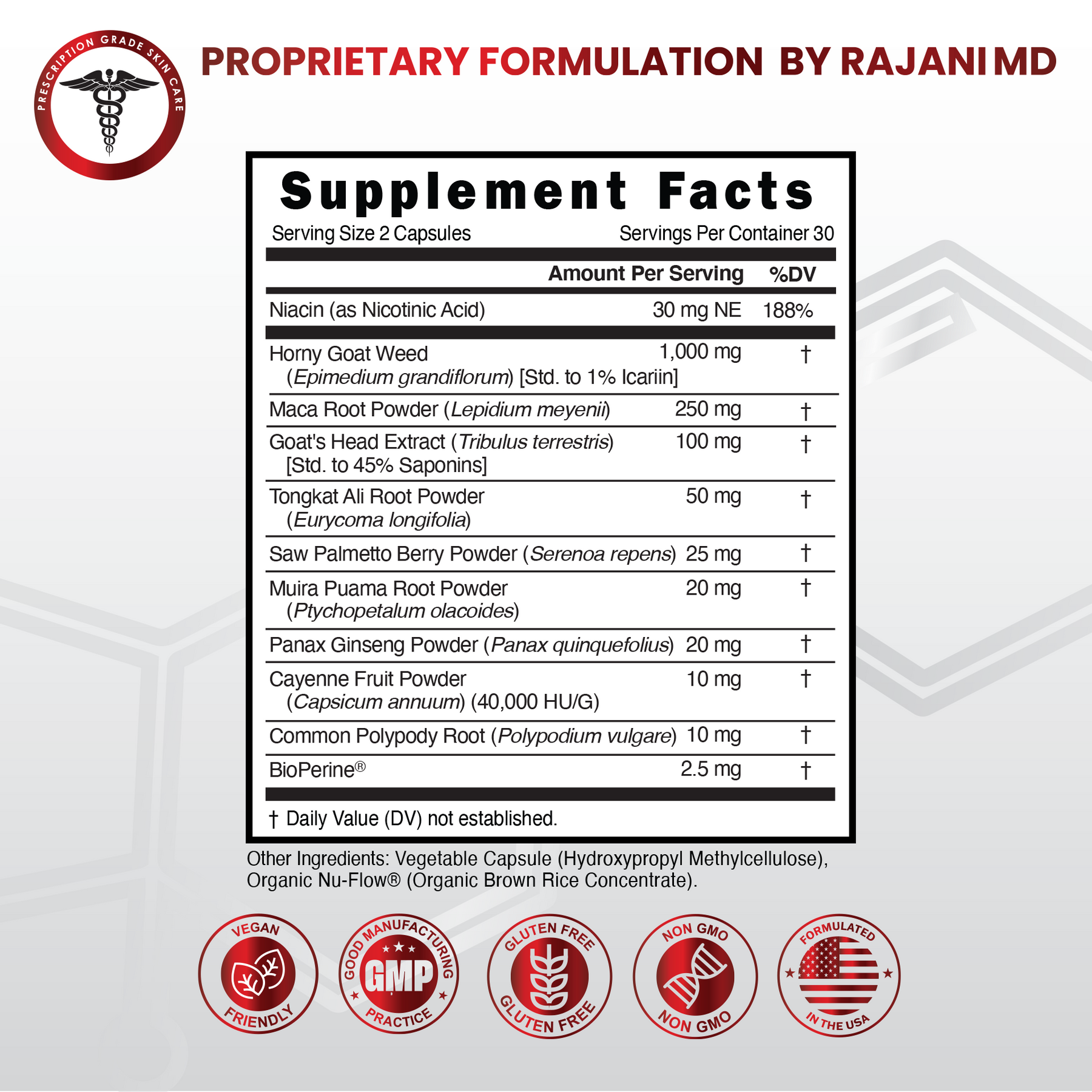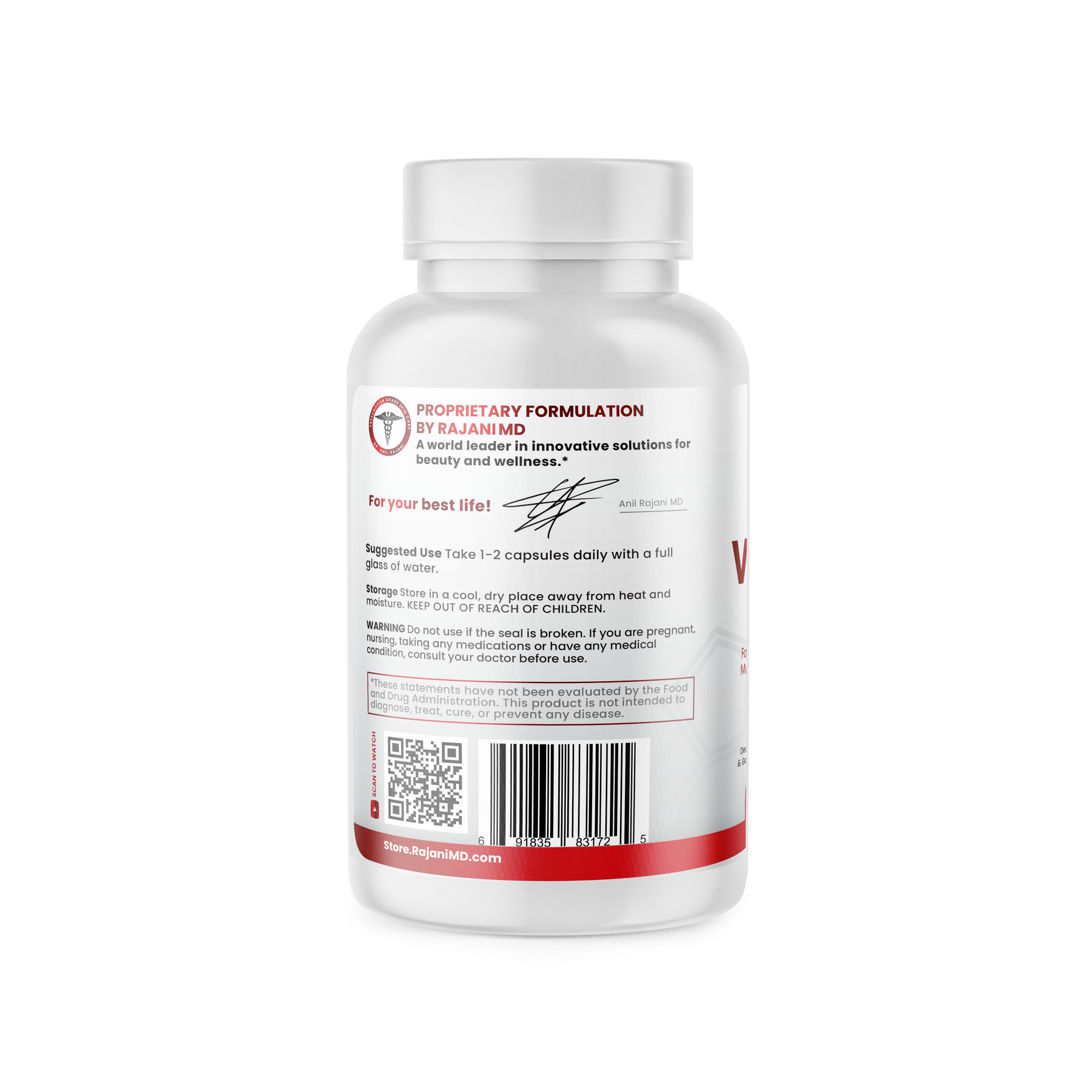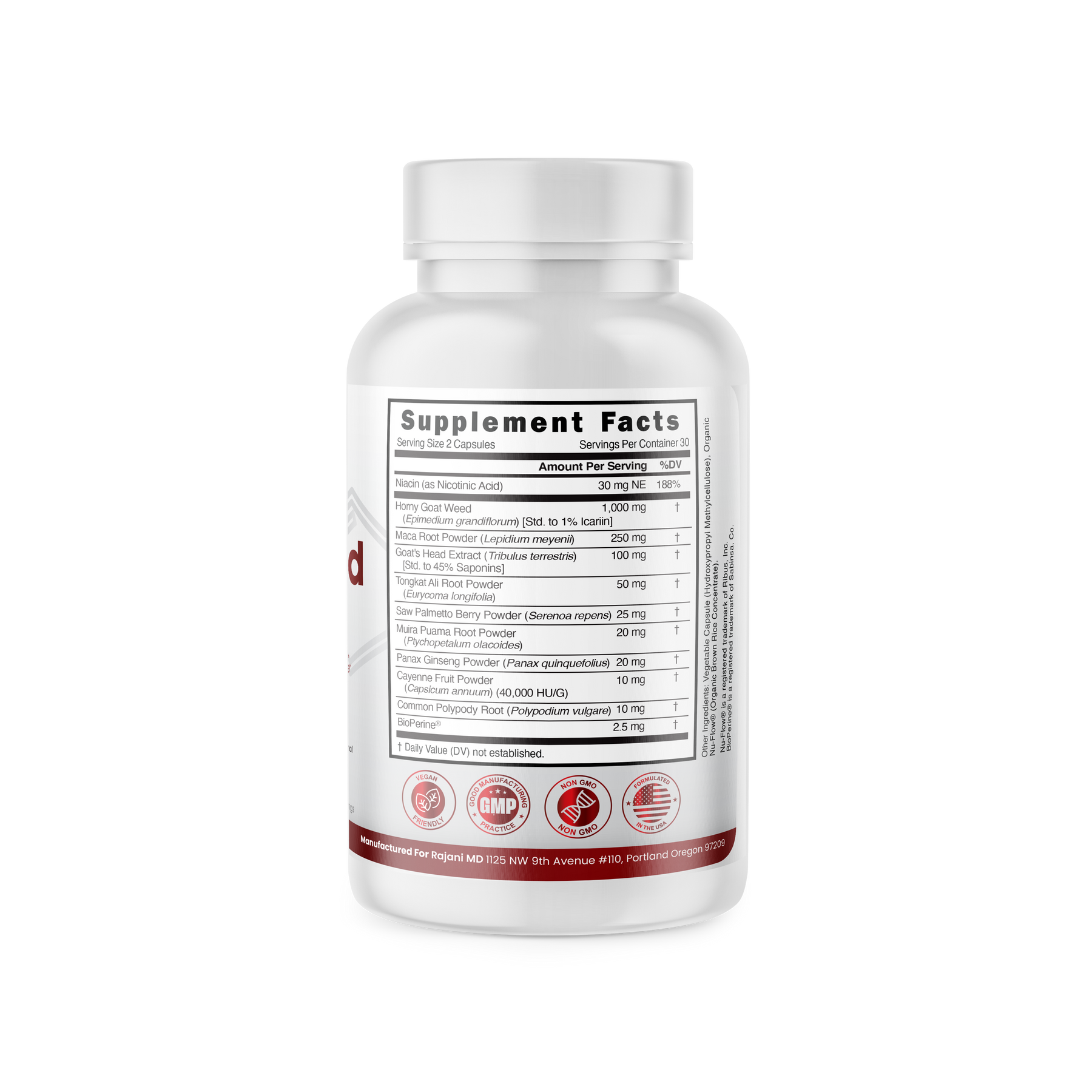 Women's Vitality Blend
Your Complete Vitality Supplement :: An excellent blend of natural herbs and antioxidants in a capsule form
Benefits :: Supports hormone balance, weight and muscle management, mood improvement, sexual health
DESCRIPTION
Women's Vitality Blend by RajaniMD in a vegetable capsule form features a potent, unique blend of 1,000mg of Horny Goat Weed and 250mg Maca Root, plus Tongkat Ali, Panax Ginseng and more to support women's strength, vigor, and endurance. 
This product has all natural ingredients, and is gelatin-free, vegan friendly, gluten free, allergen free, non-gmo, free of artificial colors and flavors, specially made and formulated in the USA with quality global ingredients in an FDA registered and GMP facility.
Product Facts:
Form: Vegetable Capsule
Flavor: None
Serving Size: 1-2 Capsules
Servings Per Container: 30-60 depending on serving size taken
KEY BENEFITS
Hormone Balance: Women have both Estrogen and Testosterone in their body that need a healthy balance for prime vitality. This unique blend features hormone regulating herbs Tongkat Ali, Cayenne, Saw Palmetto, and Horny Goat Weed.
Gain Muscle, Lose Fat: Effective herbs Horny Goat Weed, Goat's Head (Tribulus terrestris), and Maca are widely used for women in the gym. This blend opens up your blood vessels and boosts your estrogen and testosterone levels, supporting muscle build and increased energy and metabolism – this can improve your workouts and help you reach your goals faster.
Boost Mood: Hormone balancing herbs like Horny Goat Weed and Tongkat Ali help decrease cortisol (stress) levels, helping to better your mood and mental clarity.
Support Sexual Health: Key ingredients in this blend like Muira Pauma, Niacin (Vitamin B3) and Horny Goat Weed help increase libido in post-menopausal women and stimulate healthy blood flow.
HOW TO USE
HOME CARE
Take 1-2 RajaniMD Women's Vitality Capsules once a day. Stop use immediately if any adverse reactions occur.
INGREDIENTS
Active Ingredients:
Niacin (Vitamin B3 as Nicotinic Acid), Horny Goat Weed (Leaf), Maca Root Powder, Goat's Head Extract (Tribulus terrestris) (Aerial Parts), Tongkat Ali Root Powder, Saw Palmetto Berry Powder, Muira Puama Root Powder, Panax Ginseng Powder (Root), Cayenne Pepper Fruit Powder (40,000 HU/G), Common Polypody Root, BioPerine.

Inactive Ingredients:Vegetable Capsule (Hydroxypropyl Methylcellulose), Organic Nu-Flow (Organic Brown Rice Concentrate).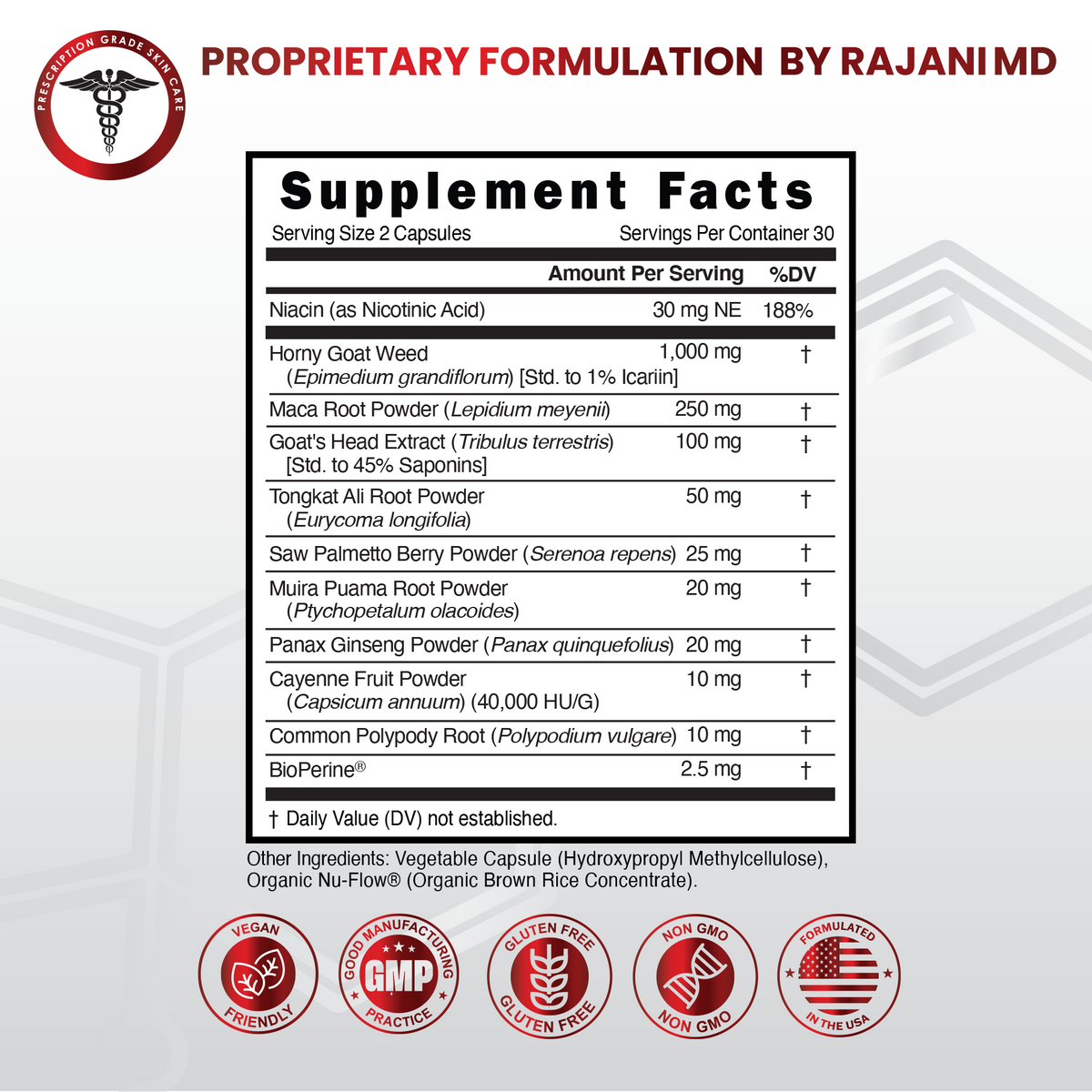 FAQS
ARE YOUR PRODUCTS SUITABLE FOR MY SKINTYPE?
Our products are suitable for all skin types. However, if you have extremely sensitive skin and/or are unsure please consult with your doctor or contact us. Always consult your healthcare practitioner before taking any dietary supplements.
WHAT IS THE RECOMMENDED DOSAGE?
I recommend starting with 1 gummy per day and increase dosage to 2 as needed. Can be taken up to twice a day for experienced users.
WHEN IS THE BEST TIME TO TAKE THIS PRODUCT?
Take this supplement in the morning and can be taken again 30 minutes before your workout.
IS YOUR PRODUCT GELATIN FREE?
Yes, this product is gelatin free.
HOW SHOULD I STORE THIS PRODUCT?
Store this product in a cool, dry area out of direct sunlight to preserve the vitamin and antioxidant integrity.