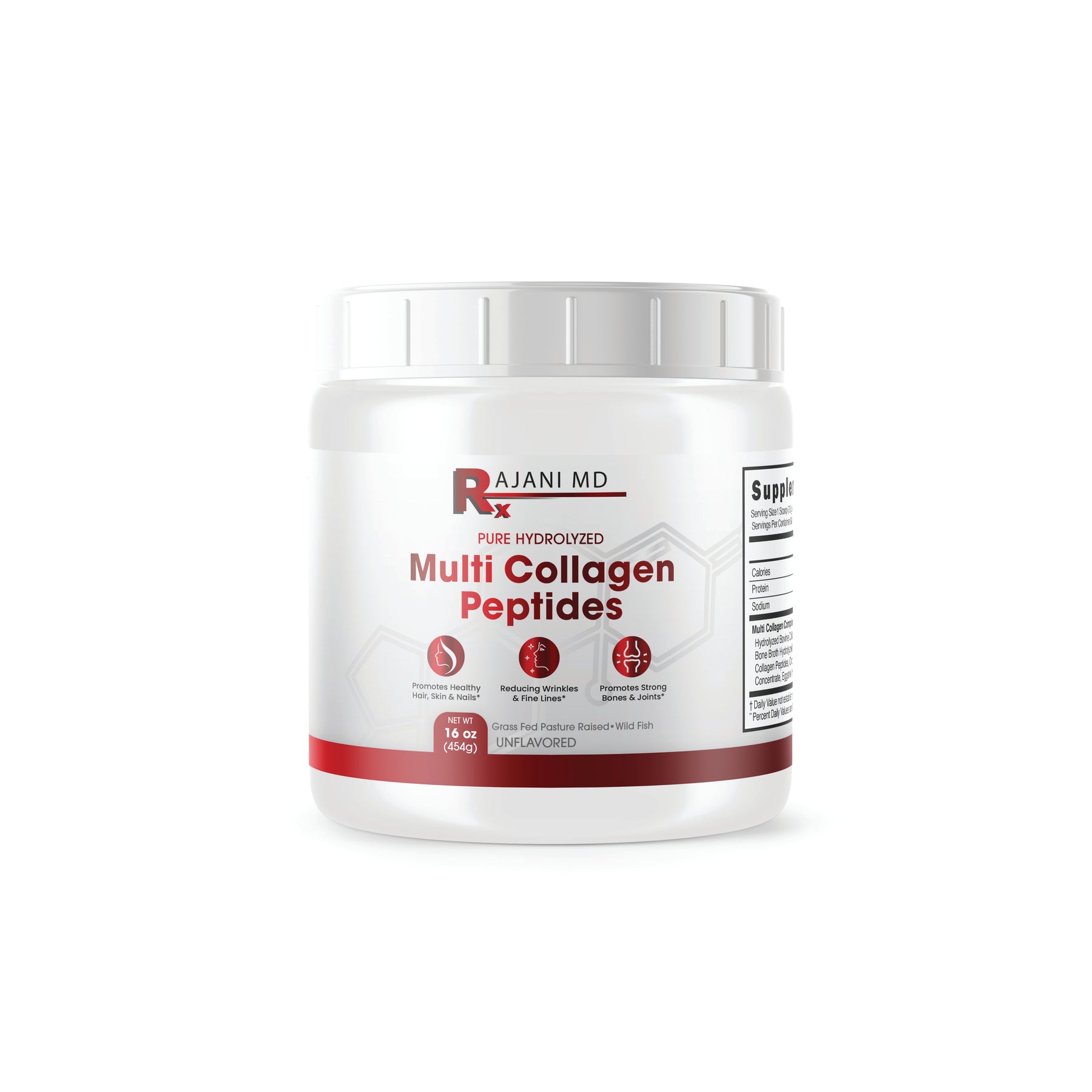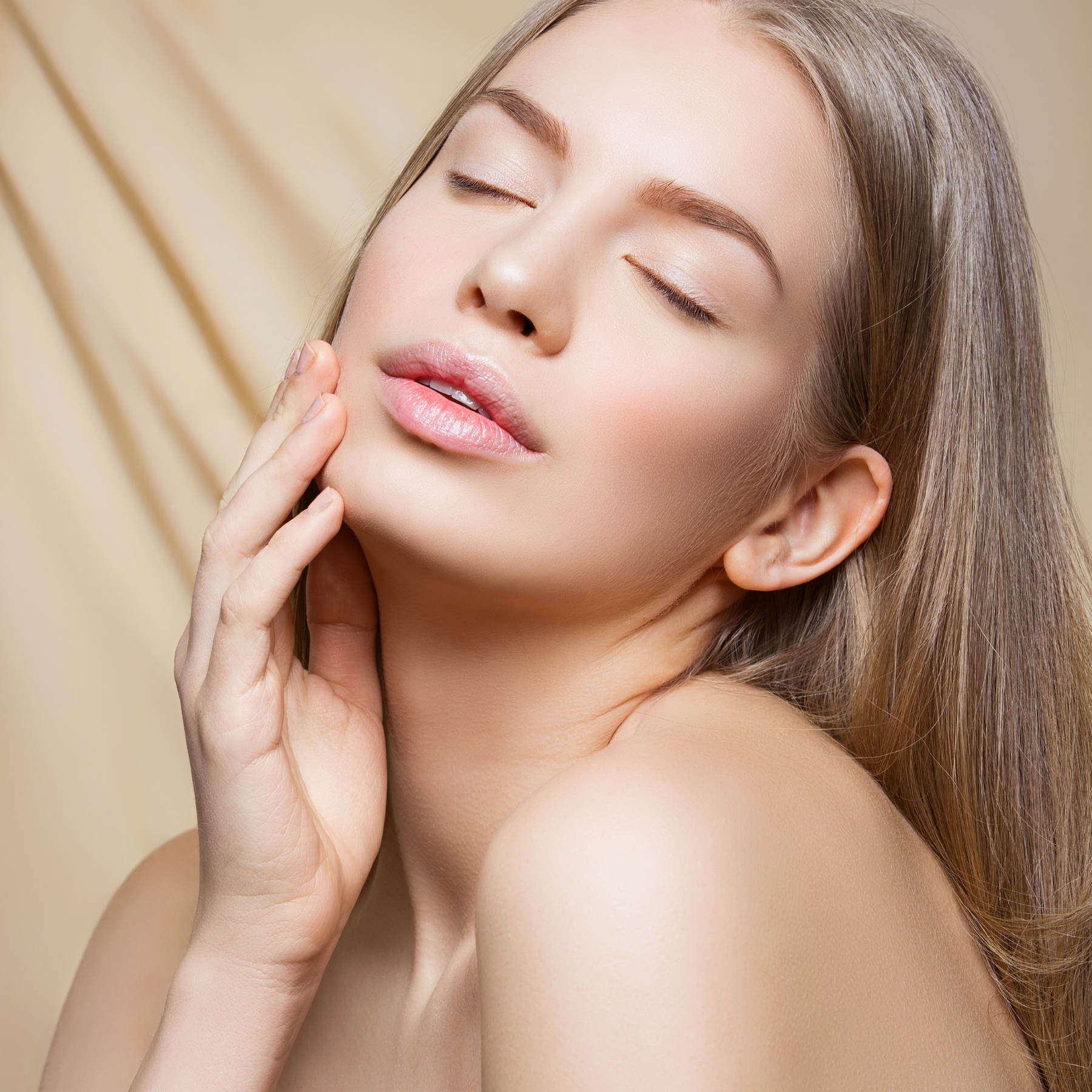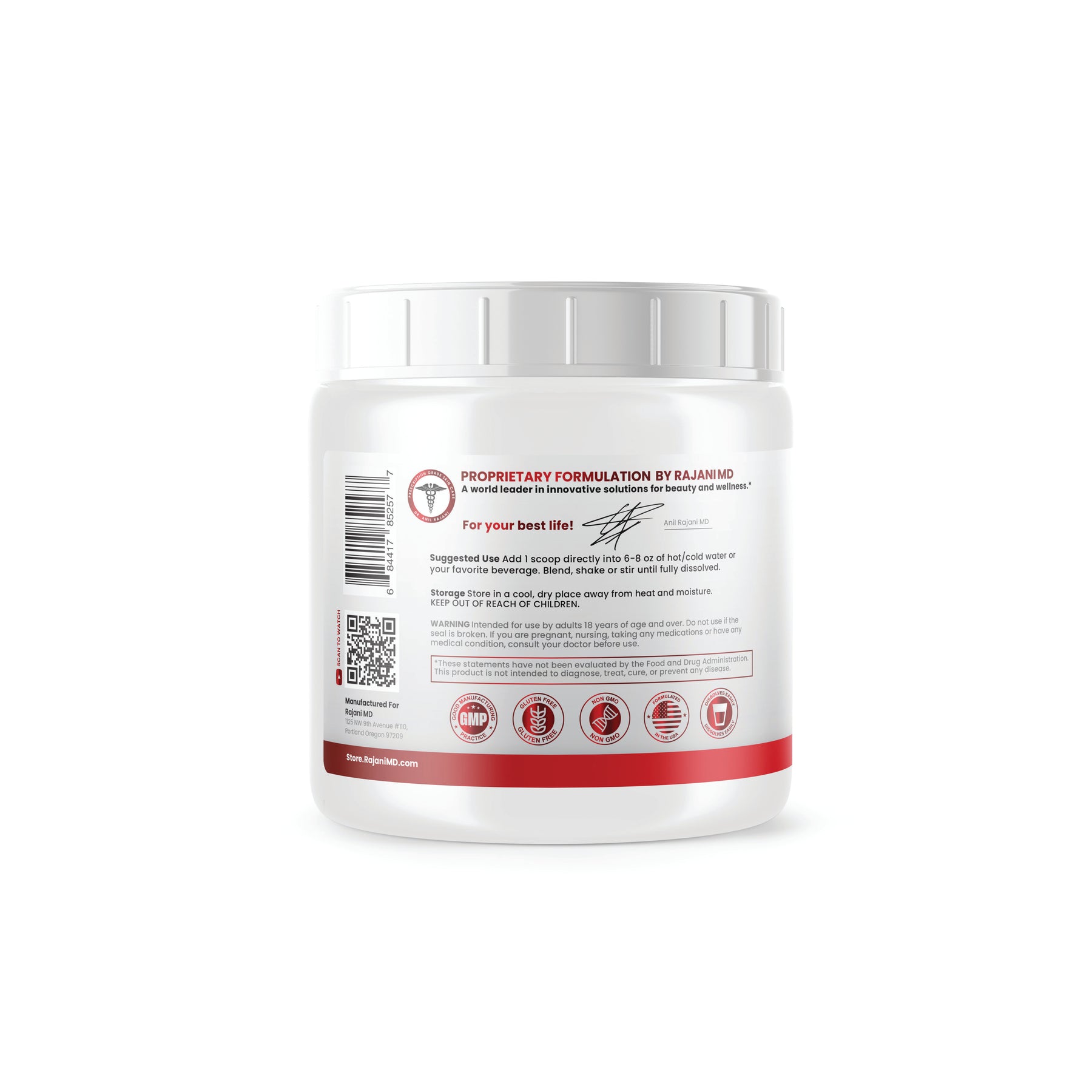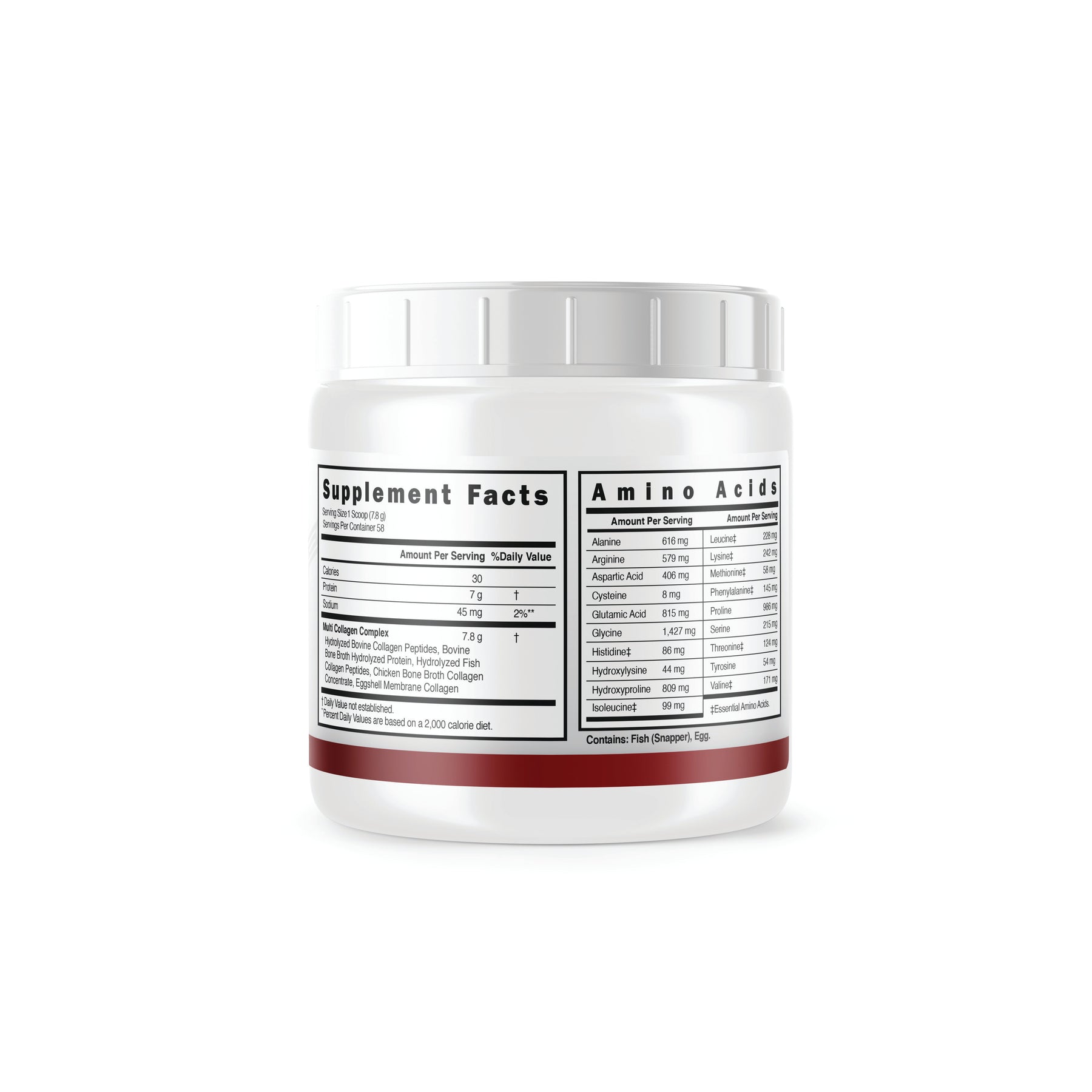 Collagen Powder
Collagen Powder ::
A blend of 5 different sources of Collagen

Benefits ::
Supports hair, skin, nails, and joints
DESCRIPTION
Collagen has been proven to show an increase in your body's hair building proteins resulting in longer, thicker, fuller hair. RajaniMD Multi Collagen Peptides provides a blend of 5 different sources of Collagen:
Hydrolyzed Bovine

Beef Bone Broth

Chicken Bone Broth

Egg Shell Membrane

Hydrolyzed Fish Collagen
This formula provides collagen Types I, II, III, V and X, hydrolyzed to help make it easier to digest and absorb. This product contains 19 amino acids creating a potent formula to provide the best results for hair, skin, nails, and joint support.

Product Facts:

Form: Powder
Serving Size: 1 Scoop (7.8 g)
Servings Per Container: 58
Recommended Servings Per Day: 1 scoop
Product Weight: 16 oz (454 g)
Scooper included inside
KEY BENEFITS
Boost Skin Health: Collagen peptides are a bioavailable form of collagen protein that bind your skin cells and visibly power your skin's strength, structure and elasticity. This multi collagen provides collagen types I, III, and V which are the exact types in your skin layers to prevent skin wrinkling, sagging and signs of aging.
Reduce Joint Pain: This multi collagen blend contains type II collagen that makes up the collagen between your joints. Ingesting type II collagen proteins stimulate more cartilage production between your joints and help reduce pain.
Supports Gut Health: Multi collagen provides type III collagen peptides to strengthen the walls of your digestive system. This prevents inflammation and aids in repair and maintenance of your digestive tract.
Muscle Recovery: Collagen peptides are easily digested by the body and full of amino acids to help with fast muscle repair and muscle growth.
Lung Support: Type V collagen in this multi collagen complex supports the lining of your lungs, with the strength and development of the alveoli, epithelium and endothelium of your lung system.
Heart Health: Collagen supports the healthy structure of your arteries and can increase levels of HDL (good) cholesterol in your body.
HOW TO USE
HOME CARE
Add one scoop of RajaniMD Multi Collagen Peptides directly into 6-8 oz of hot/cold water. This product can easily dissolve into any smoothie, protein shake, tea, coffee or your favorite beverage. Can be taken any time throughout the day.
Generally supplements can take from 3-6 weeks before you see noticeable changes.
INGREDIENTS
Active Ingredients:
Hydrolyzed Bovine Collagen Peptides, Bovine Bone Broth Hydrolyzed Protein, Hydrolyzed Fish Collagen Peptides, Chicken Bone Broth Collagen Concentrate, Eggshell Membrane Collagen.

Inactive Ingredients:
None
FAQS
ARE YOUR PRODUCTS SUITABLE FOR MY SKINTYPE?
Our products are suitable for all skin types. However, if you have extremely sensitive skin and/or are unsure please consult with your doctor or contact us
WHAT IS THE CORRECT DOSAGE?
When starting, one can take 2 scoops a day. After that 1 scoop a day is the dose. For those wanting to try a high dose or feel they need it, 2 scoops a day is the max. Note, a scoop is 7.8 grams. That is one serving.
WHERE IS THE COLLAGEN FROM?
Our Collagen Powder is made in the USA with global and domestically sourced ingredients (Bovine and Chicken ARE from Argentina, THE rest from USA).
WHICH FISH IS USED INTHIS PRODUCT?
The fish source is wild-caught Snapper. It is pure hydrolyzed marine collagen. It is also non-GMO and gluten free. This is the only fish source in the product.
DOES THIS PRODUCT CONTAIN VITAMIN C?
There is no Vitamin C in our Collagen Powder. Dr. Rajani does not like formulations with Vitamin C, so we excluded it. We do recommend taking Vitamin C and also Copper with this product to help with absorption. You can easily add both to your daily diet, as discussed in this video: https://www.youtube.com/watch?v=M9pDiroP6co
DOES YOUR COLLAGEN POWDER CONTAIN PRESERVATIVES OR SOY?
Our Collagen Powder does not contain any preservatives or soy. However, it does contains chicken collagen. Poultry feed can contain soybean protein.
IS YOUR COLLAGEN POWDER SAFE?
Multiple Collagen peptides are safe. Collagen peptides have been safely used in doses of up to 10 grams daily. It is also GMP certified and tested thrice to ensure no heavy metals.