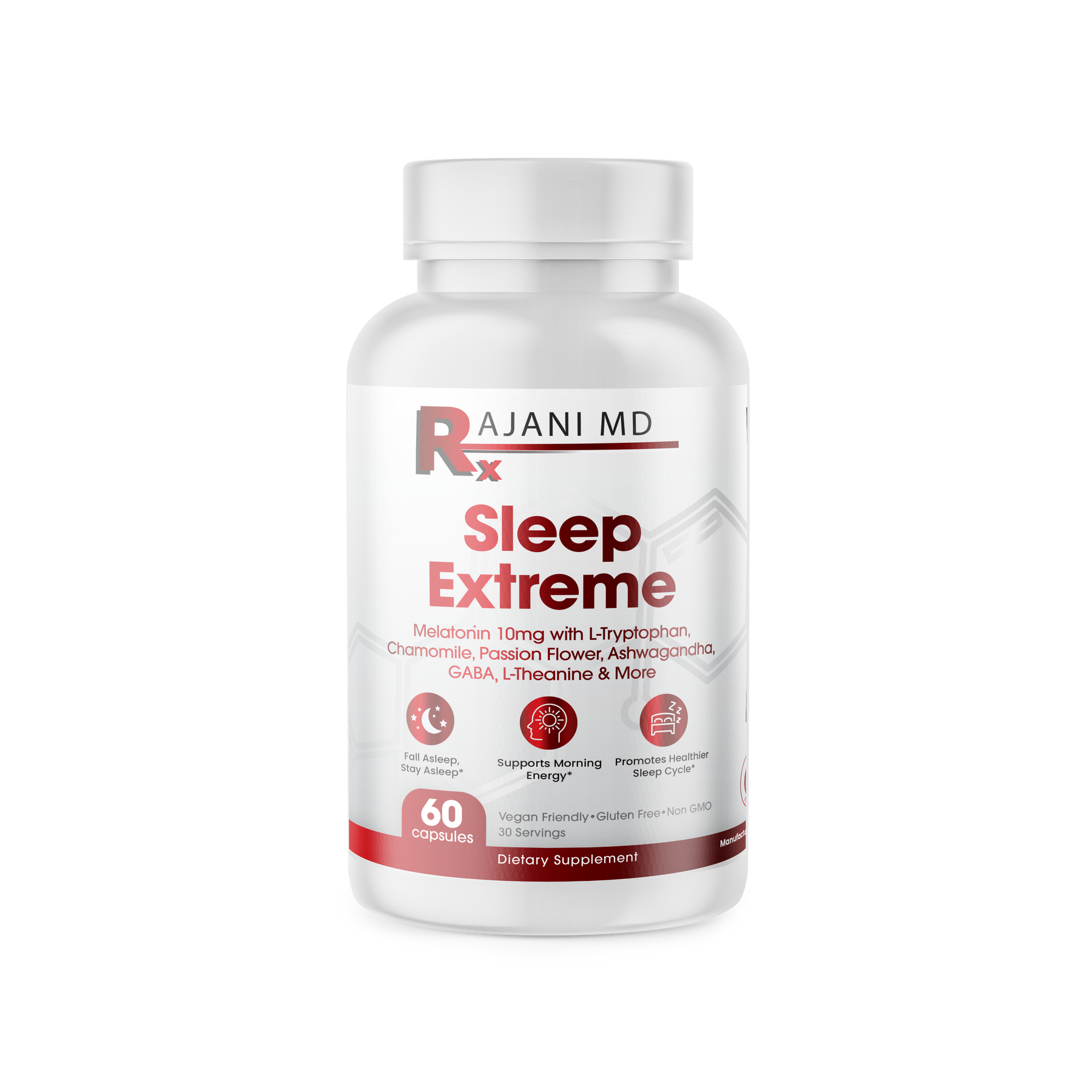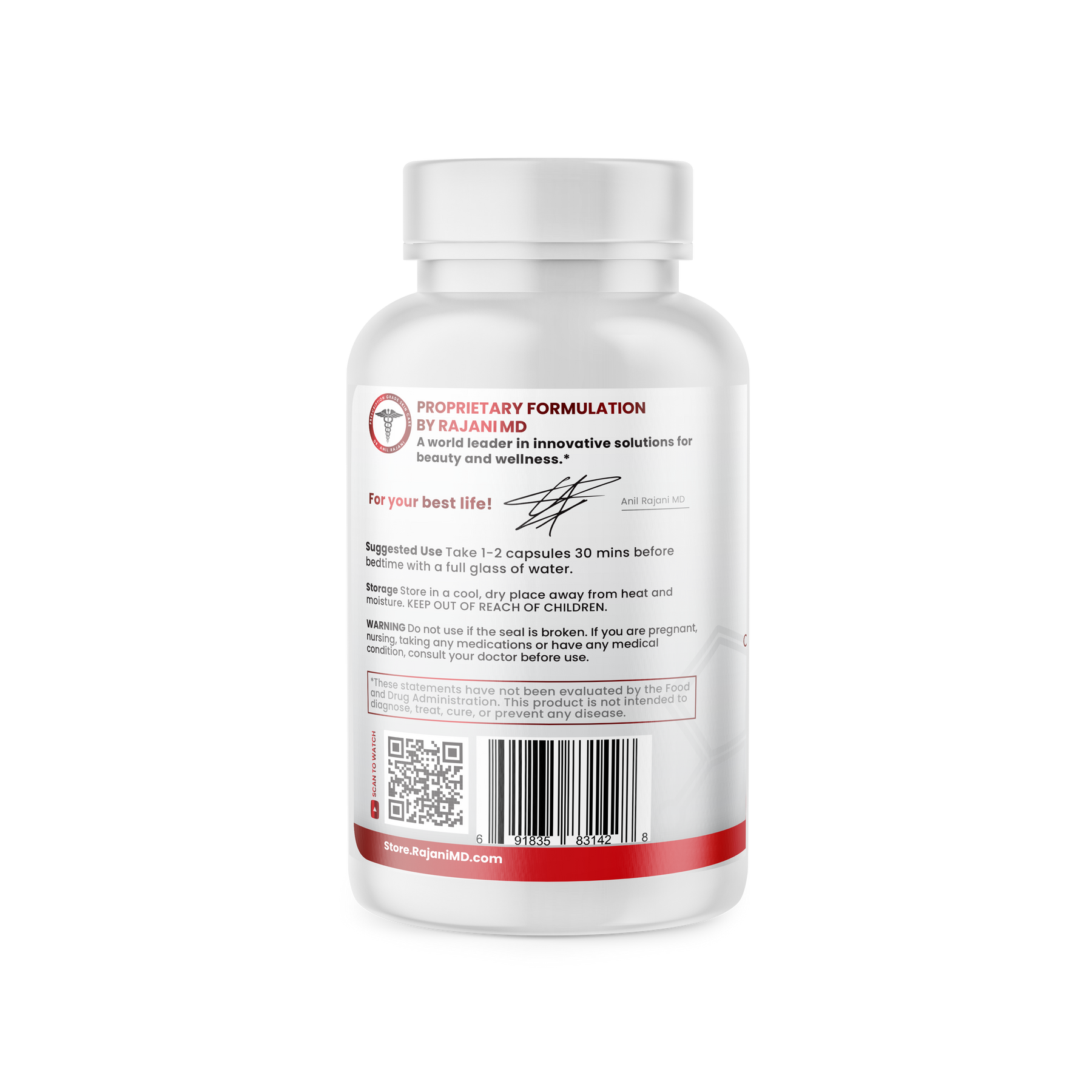 Sleep Extreme Capsules
Your Improved Bedtime Supplement ::
An effective formulation of melatonin + natural sleep supporting ingredients in a capsule form
Benefits ::
Supports healthy sleep cycles, morning energy, and overall health.
DESCRIPTION
An effective night-time formulation featuring Melatonin, L-Tryptophan, Chamomile, Passion Flower, Ashwagandha, GABA, L-Theanine, and more – to help you de-stress, unwind, and get a full, refreshing sleep. Made with natural ingredients, this is an excellent sleep-aid supplement with ingredients clinically proven to help you fall asleep, stay asleep, and wake up refreshed.
Healthy sleep is essential to a healthy mind and body.
This product is gelatin-free, vegan friendly, gluten free, allergen free, non-gmo, free of artificial colors, flavors and preservatives, specially made and formulated in the USA with quality global ingredients in an FDA registered and GMP facility.
Product Facts:
Form: Vegetable Capsule
Flavor: None
Serving Size: 1-2 Capsules
Servings Per Container: 30-60 depending on serving size taken
KEY BENEFITS
Calm Your Nerves: This supplement features key ingredient GABA plus GABA-boosting ingredients like L-Theanine, L-Taurine, Vitamin B6 and Magnesium. GABA is produced naturally in the body – a neurotransmitter that (literally) calms your nerves by hushing the constant chemical messages passing through your nerve cells.
Regulate Sleep Cycles: Melatonin is the hormone produced by your brain to manage your sleep cycles. Melatonin at a 5mg-10mg dose can be effective to help you enter and regulate your sleep.
Relax and Unwind: This bedtime blend is full of herbal remedies, featuring Ashwagandha, Chamomile, Passionflower, and more that contain sedative properties to give you a peaceful rest and wake up refreshed.
Improve Mental Health: Regulated sleep reduces your cortisol levels, supporting reduced feelings of stress and anxiety throughout the day and night.
Heal Tired Skin: Regulated sleep cycles encourage your overnight collagen and elastin production to help you avoid stressed skin and premature wrinkles.
HOW TO USE
How to use:
Take 1-2 RajaniMD Sleep Extreme Capsules 30 minutes before bedtime. Stop use immediately if any adverse reactions occur.
INGREDIENTS
Active Ingredients:
Vitamin B6 (Pyridoxine HCl), Magnesium (as Magnesium Citrate), L-Tryptophan, Goji Berry, Chamomile Flower, Lemon Balm (Aerial Parts), Passion Flower, L-Taurine, Hops (Flower), St. John's Wort (Aerial Parts), GABA, Skullcap Root, L-Theanine, Ashwagandha Root, Inositol, 5-HTP (From Griffonia simplicifolia (Seed)), Melatonin.

Inactive Ingredients:
Vegetable Capsule, Magnesium Stearate, Silicon Dioxide.
FAQS
WHAT IS THE RECOMMENDED DOSAGE?
I recommend starting with 1 capsule and then increasing dosage to 2 as needed.
WHAT ARE YOUR RECOMMENDATIONS FOR THE BEST SLEEP AND NATURAL MELATONIN PRODUCTION?
Your melatonin production is controlled by light – so sleep in complete darkness and avoid phone/computer/tv screens 1 hour before sleep.
IS YOUR PRODUCT GELATIN FREE?
Yes, this product is gelatin free.
HOW SHOULD I STORE THIS PRODUCT?
Store this product in a cool, dry area out of direct sunlight to preserve the vitamin and antioxidant integrity.