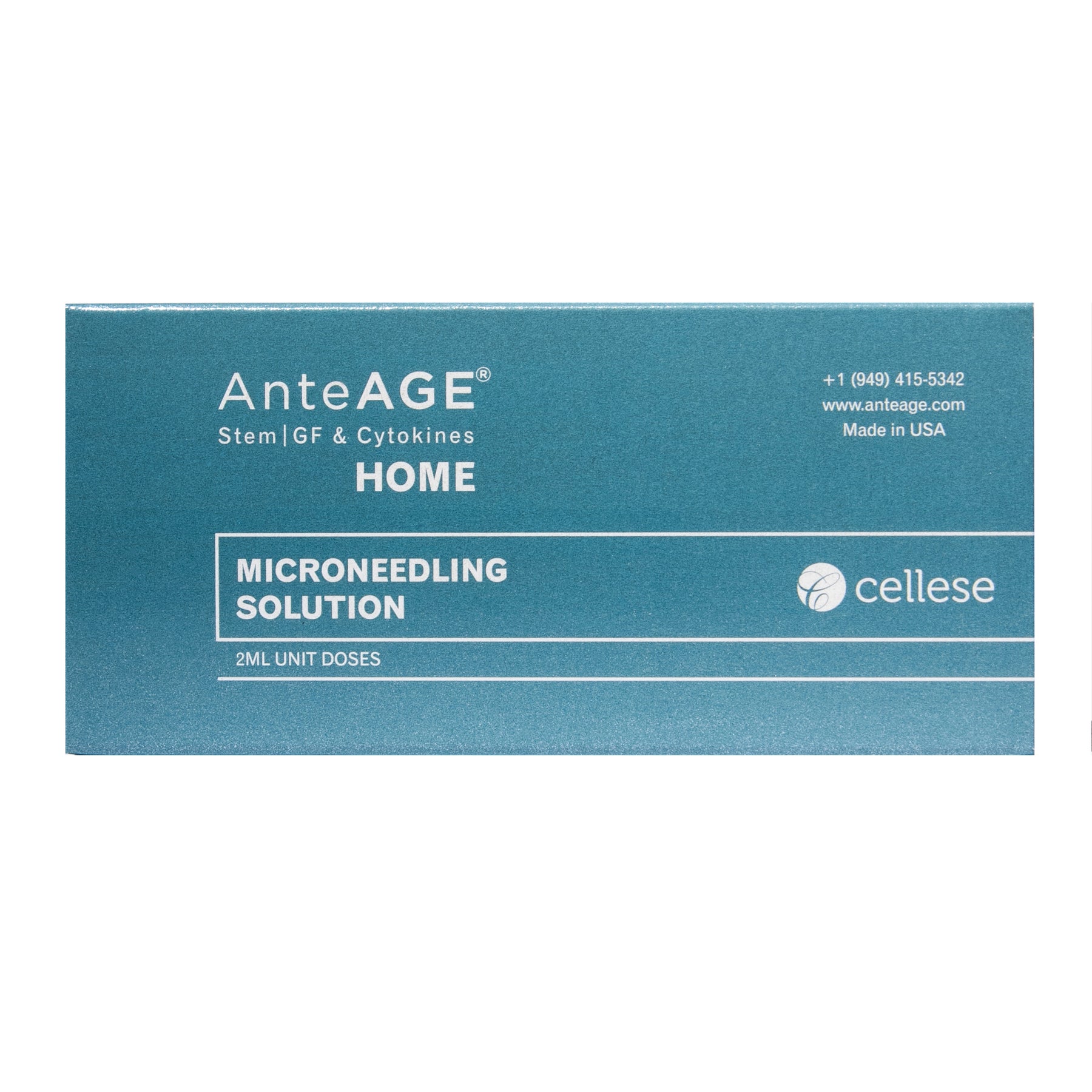 Home MicroNeedling Solution
AnteAGE HOME Microneedling Solution ::
Contains pro-healing, anti-inflammatory growth factors and cytokines

Benefits ::
Improves fine lines and wrinkles, sagging skin, texture and tone, pore size and discoloration

This product is currently not available for international orders.
DESCRIPTION
What's Included:
(5) 2ml replacement vials
ALL SKIN & HAIR TYPES, ALL AGES
AnteAGE HOME Microneedling Solution contains pro-healing, anti-inflammatory growth factors and cytokines derived from laboratory culture of human bone marrow mesenchymal stem cells, the specialized cells that science has determined function as "command and control" of healing in all injured tissues. Hyaluronic acid provides lubrication and is a powerful humectant that promotes rapid re-hydration and volume enhancement within the upper layers of the skin. AnteAGE products contain no cells or cell remnants (they are removed during ultrafiltration, the final step in the laboratory culture process).
Contains pristine Bone Marrow Mesenchymal Stem Cell derived cytokines. A superior cell source for culture compared to fibroblast cells and adipose stem cells. Maintains a stronger anti-inflammatory portfolio of cytokines. 
Formulated with a Hyaluronic Acid base, and no harmful ingredients seen in other microneedling solutions 
Can be used post-procedure to initiate healing response 
Paraben-free, FD&C dye-free, Sulfate-free
Designed to be used with the Anteage Home Microneedling device. You can purchase the device and solution together here: Home Microneedling Kit
KEY BENEFITS
Reduces the appearance of fine lines and wrinkles
Decreases the appearance of sagging skin
Visibly improves skin texture and tone
Makes pores appear smaller
Addresses discoloration
HOW TO USE
HOME CARE
This solution is designed to work with teh Home Microneedling Device, which is sold in our Home Microneedling Kit. <br><br>Please be sure to replace your roller for every 5-7 vials you use to maximize product efficacy.
INGREDIENTS
Water (Aqua), Human Bone Marrow Stem Cell Conditioned Media, Benzyl Alcohol, Dehydroacetic Acid, Hyaluronic Acid
FAQS
ARE YOUR PRODUCTS SUITABLE FOR MY SKINTYPE?
Our products are suitable for all skin types. However, if you have extremely sensitive skin and/or are unsure please consult with your doctor or contact us.
IS IT SAFE TO USE ANTEAGE GROWTH FACTOR PRODUCTS AFTER HAVING A SCULPTRA PROCEDURE?
There is no contra-indication with the Serum, Brightener and Accelerator. That being said, the Accelerator is more active, and you might have a little extra sensitivity to that product after any procedure. If you are referencing the Microneedling/Growth Factor solution kit, they recommend holding off for 2 weeks after your procedure. AnteAge recommends consulting your provider about when to apply topical lotions after other types of dermal procedures, as some recommend massaging the area and some don't.
IS THE SERUM SAFE AND EFFECTIVE?
Dr Rajani made great videos regarding the use of prostaglandins around the orbital area which help to explain this product. Non-prostaglandin products tend to take a little longer to see results when compared to prostaglandins, but do not have any of the negative side effects. https://www.youtube.com/watch?v=5bNNbQuPYIQ; https://www.youtube.com/watch?v=O9KW-oLtSS0
WHERE CAN I LEARN MORE ABOUT THE STEM CELLS IN THIS SOLUTION?
https://youtu.be/J6YM-J0h6Ro
WHY DO YOU SELL THE ROLLER INSTEAD OF THE PEN??
You can learn more here: https://youtu.be/J6YM-J0h6Ro. The roller in this case is for product delivery and not the deeper rollers referenced in other videos. Thus a roller in this situation is advised.