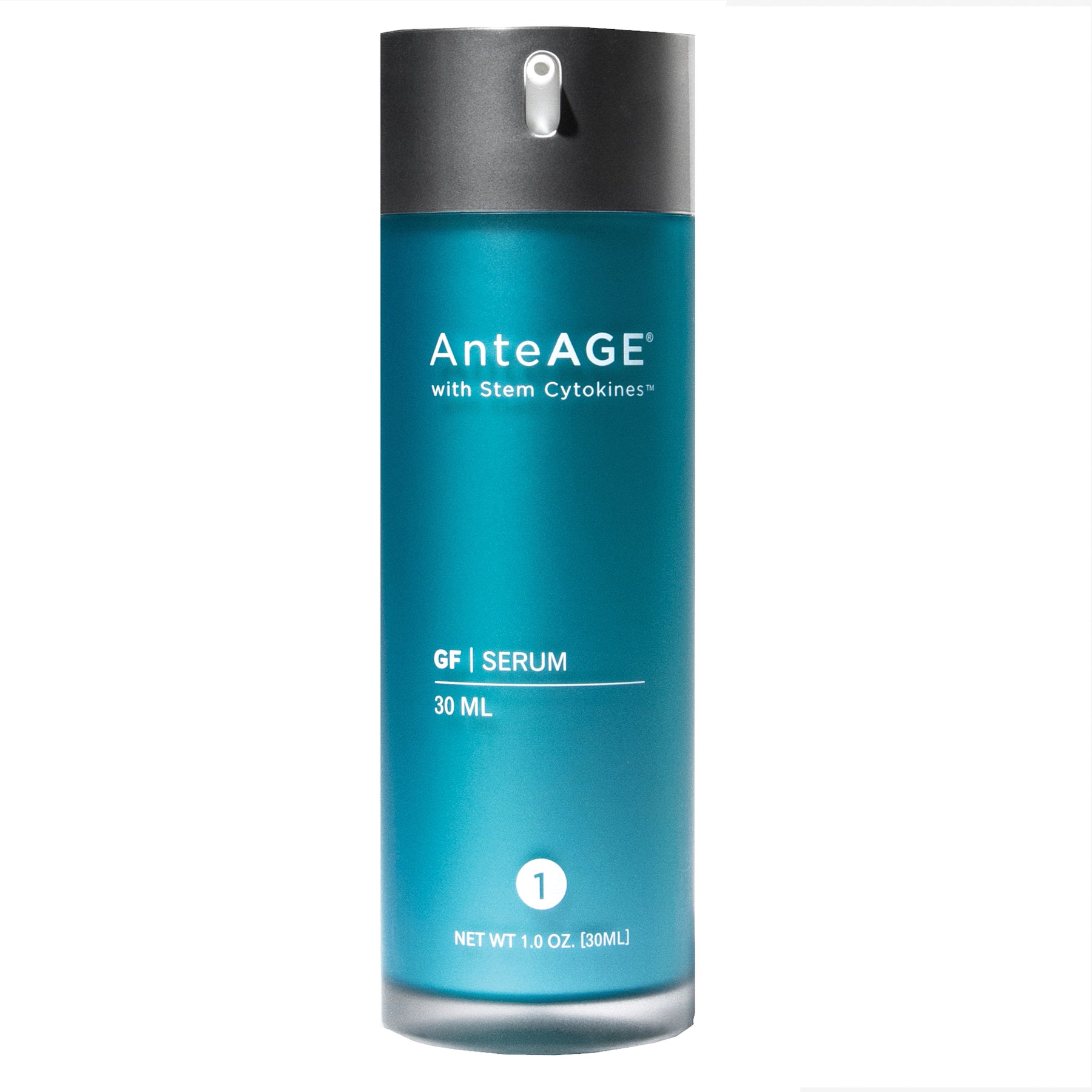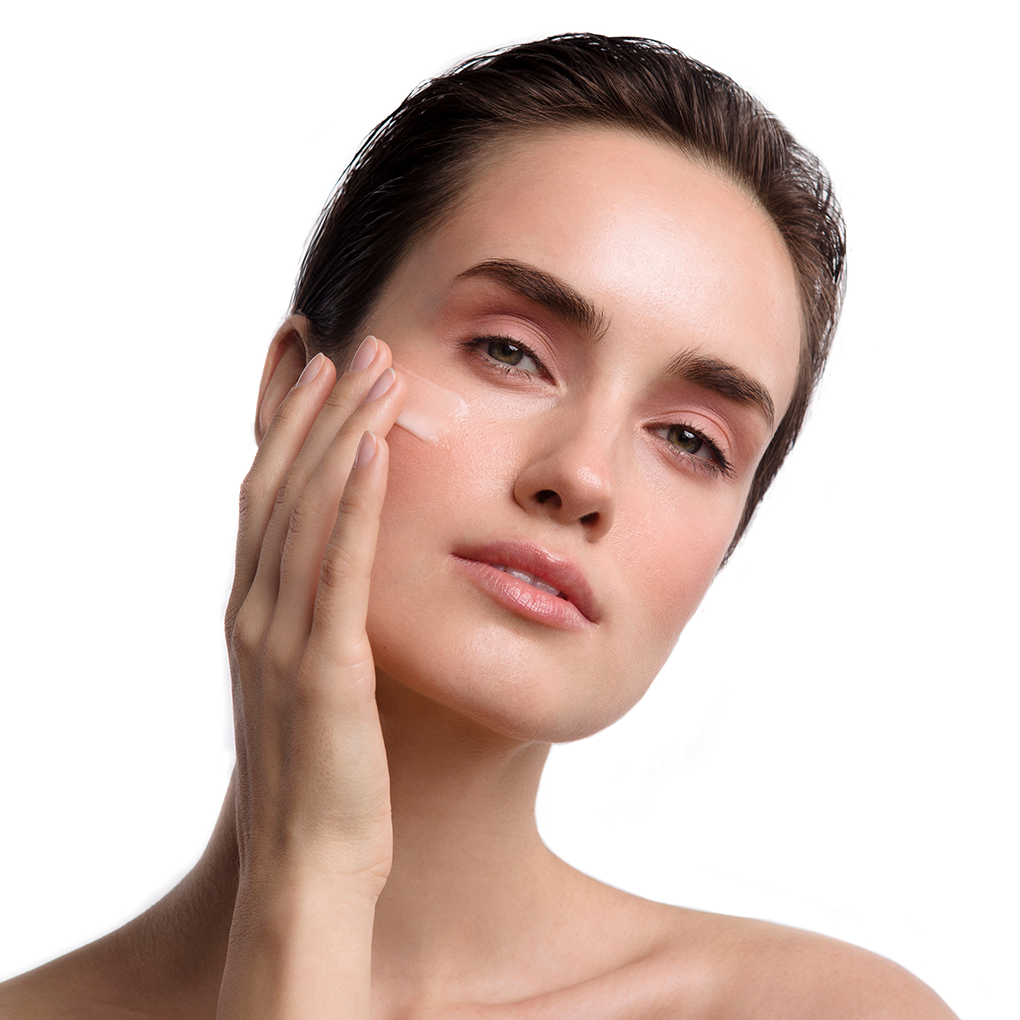 Serum
AnteAGE® Regenerating Serum ::
Restore your skin's ability to heal itself

Benefits ::
Powerful results at the cellular level

This product is currently not available for international orders.
DESCRIPTION
FOR ALL SKIN TYPES
Restore your skin's ability to heal itself with AnteAGE® regenerating serum. This elegant formula quickly absorbs into your skin, and contains physiologically balanced Stem Cytokines™, potent peptides and protective Antioxidants. Utilizing nanotechnology, this symphony of ingredients act in concert to deliver powerful results at the cellular level.
1 OZ :: 30 ML
KEY BENEFITS
Initiates a pro-healing and anti-inflammatory response
Reduces the appearance of fine lines and wrinkles
Reduction in skin redness and sensitivity
Protects from environmental assault
pH: 6.0
HOW TO USE
HOME CARE
Apply 1-2 pumps of Serum and Accelerator twice daily. Proceed with Accelerator (Step 2). Follow with your favorite SPF each morning.

INGREDIENTS
INGREDIENTS
Water (Aqua), Human Bone Marrow Stem Cell Conditioned Media, Hydrolyzed Myrtus Communis Leaf Extract, Glycerin, Butylene Glycol, Carbomer, Polysorbate 20, Palmitoyl Tripeptide-1, Palmitoyl Tetrapeptide-7, Niacinamide, Cetyl Ethylhexanoate, Polyacrylate-13, Polyisobutene, Dimethyl Isosorbide, Benzyl Alcohol, Salicylic Acid, Sorbic Acid, Carnosine, Ilex Paraguariensis Leaf Extract, Maltodextrin, Disodium EDTA
How to Use
Additional products to compliment your beauty and wellness routines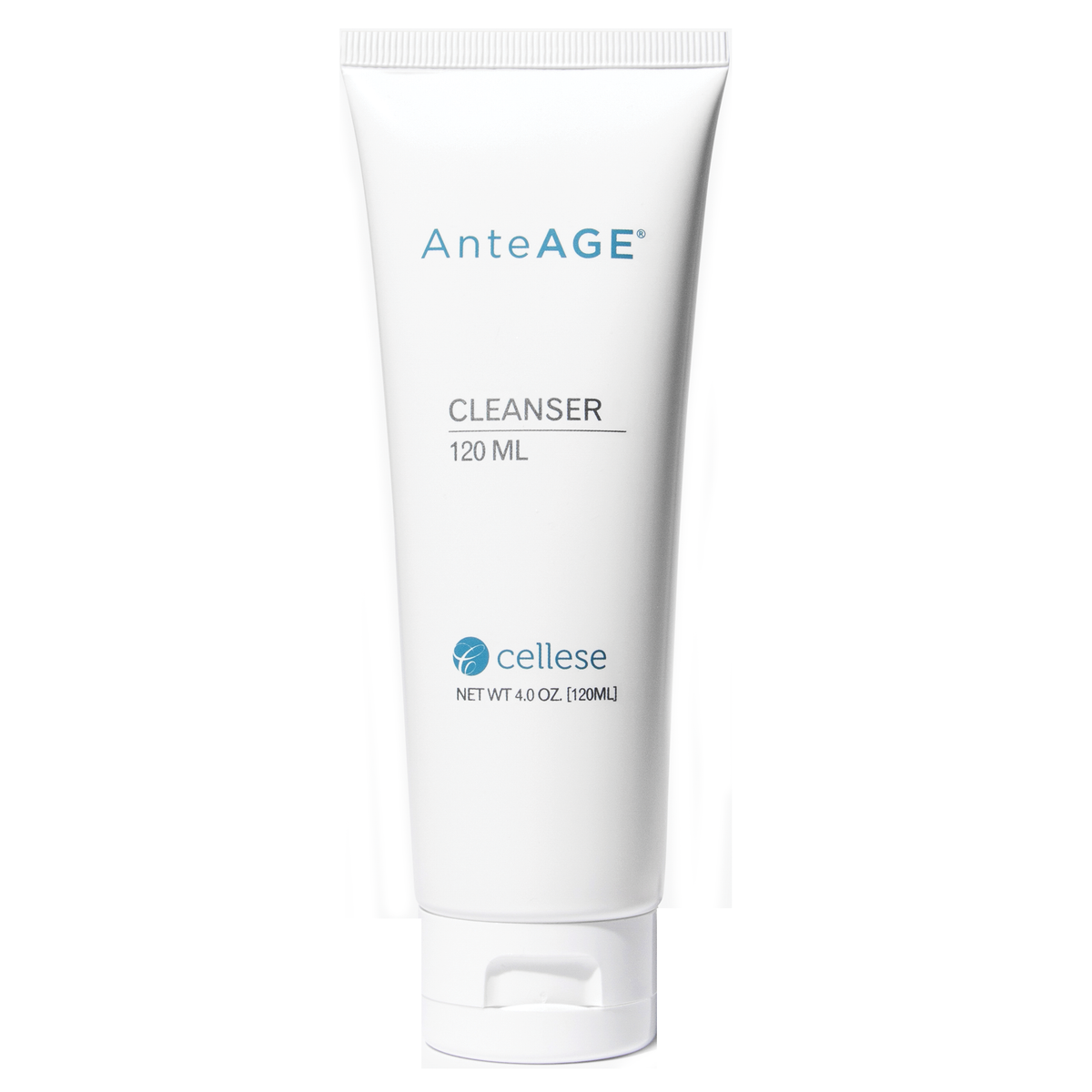 Step 1
Cleanser
Apply a dime size amount to the palm of your hand. Add lukewarm water and use the other hand to activate the foaming system. Massage over dry skin to remove oil, debris, and makeup. Rinse clean with water. Repeat if necessary.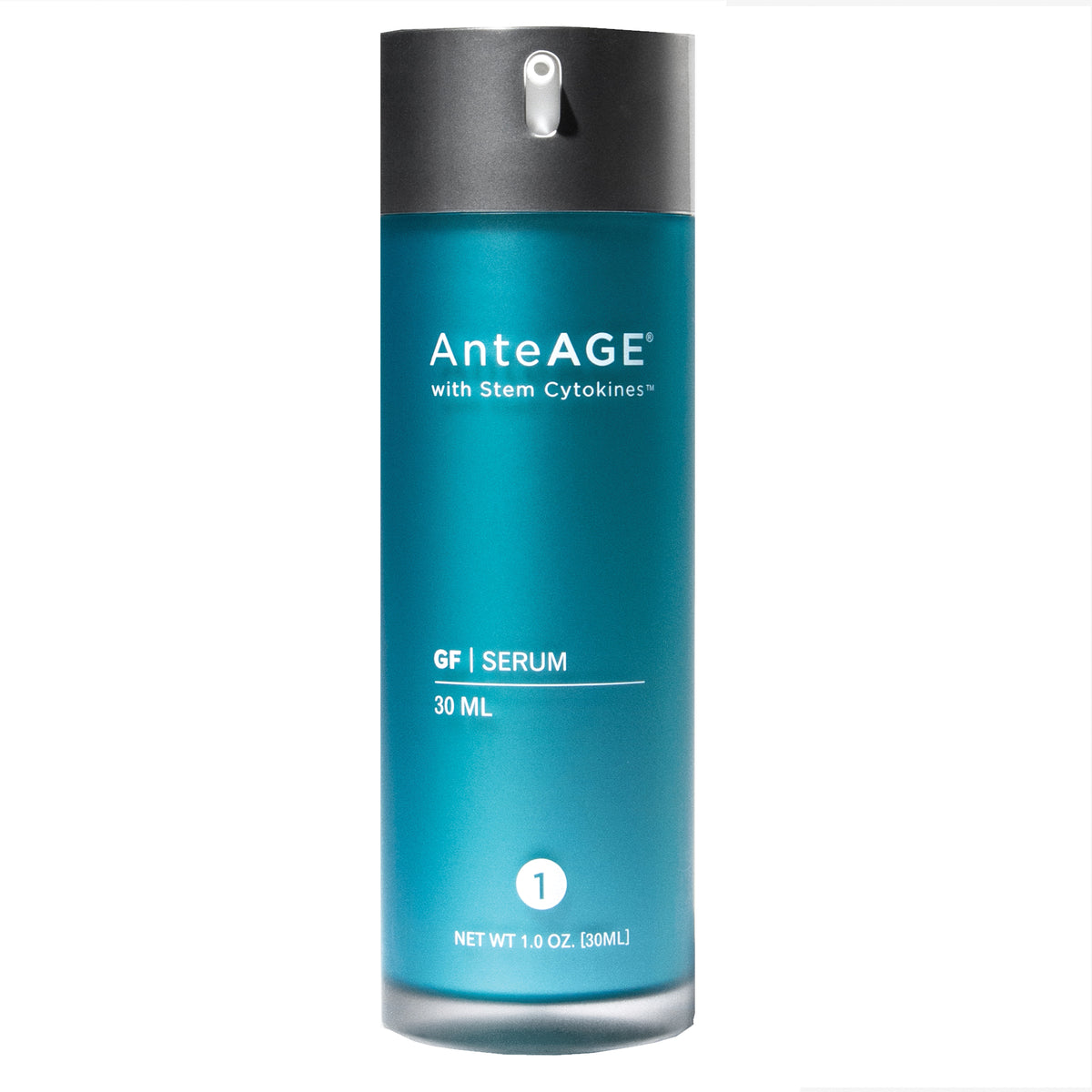 Step 2
Serum
Apply 1-2 pumps of Serum twice daily.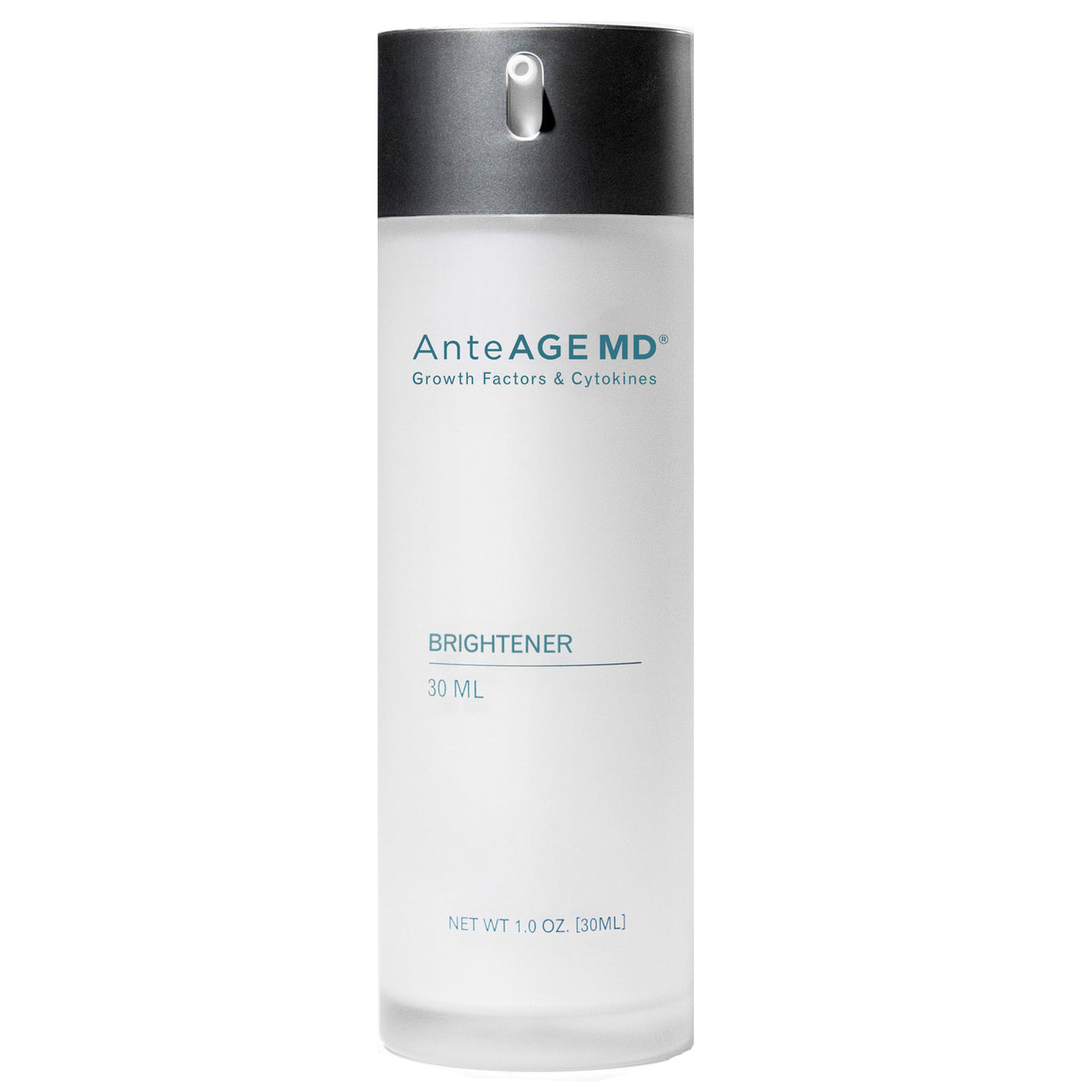 Step 3
Brightener
Apply 2-3 pumps and massage into face, neck, chest or other affected areas. Allow skin to naturally absorb Brightener before applying additional product.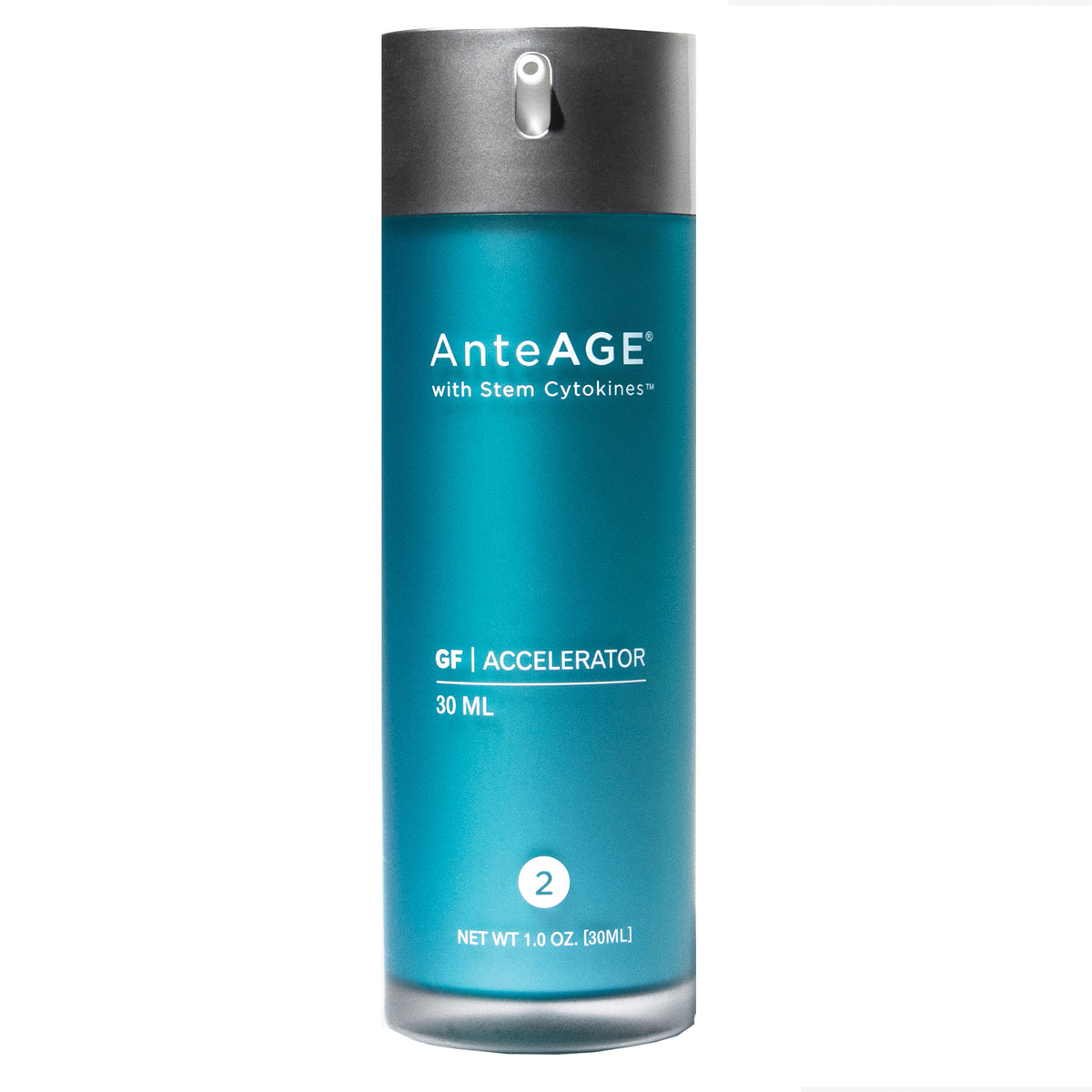 Step 4
Accelerator
Apply 1-2 pumps twice after Serum and/or Accelerator.
Step 5
Age Defying SPF 45
Use if sun or UV exposure is expected. Apply to face and neck avoiding the eye area. Wait at least 30 minutes before sun exposure, or as directed by a physician. Reapply after prolonged exposure, physical activity. perspiration or contact with water.
* Always follow the instructions for each product & adjust the usage according to your tolerance and needs.
FAQS
ARE YOUR PRODUCTS SUITABLE FOR MY SKINTYPE?
Our products are suitable for all skin types. However, if you have extremely sensitive skin and/or are unsure please consult with your doctor or contact us.
CAN I USE MY TONER WITH ANTEAGE PRODUCTS?
Yes, you can use your toner with AnteAge products. AnteAge recommends using products based on their viscosity when you are combining different skincare products. So you would apply the thinnest/most liquid products first, the thickest last.
WHY DO YOU CARRY THE REGULAR ANTEAGE SYSTEM INSTEAD OF THE MD SYSTEM?
Anteage states that THE MD System contains twice the Stem Cytokines found in AnteAGE, along with 21 additional ingredients with proven anti-aging, pro-healing and anti- inflammatory benefits. However, the studies showing the results were all done with the Regular AnteAge version. The MD was added afterwards, and there is currently no data on results with the MD Version. So that is why we opted to carry the regular line for now.
CAN I COMBINE ANTEAGE WITH OTHER PRODUCTS?
AnteAge products do already contain Vitamin C, so it really isn't necessary to add that to your skin regimen, unless you really want to double up. And in terms of Retinal products, the System does already contain bakuchiol, which is similar to retinol, so you might want to limit or eliminate the additional Retinol, as it may be too much for your skin to tolerate.
I SEE YOU SELL THIS AS PART OF A SET. DO I NEED TO USE BOTH THE ANTEAGE SERUM AND THE ACCELERATOR?
The clinical studies were based on the 2-step System. The Serum has a higher proportion of growth factors and deeper absorption. The Accelerator is richer in ingredients. For those with skin that can tolerate both this is the ideal situation. For those that cannot tolerate the ingredient rich Accelerator they can use the Serum alone. 95% of Dr Rajani's patients use both. And while typically bought together, a client may run out of one before the other and need to order just one. In many cases, it's the Serum that someone will run out of first, as it recommended to be used both in the morning and night. The Accelerator is recommended as your night cream.
IS IT SAFE TO USE ANTEAGE PRODUCTS IF I AM ALREADY USING .O5 TRETINOIN FOR MY ACNE?
Yes, people often like to use AnteAge in the morning and tretinols in the evening.
IS IT SAFE TO USE ANTEAGE GROWTH FACTOR PRODUCTS AFTER HAVING A SCULPTRA PROCEDURE?
There is no contra-indication with the Serum, Brightener and Accelerator. That being said, the Accelerator is more active, and you might have a little extra sensitivity to that product after any procedure. If you are referencing the Microneedling/Growth Factor solution kit, they recommend holding off for 2 weeks after your procedure. AnteAge recommends consulting your provider about when to apply topical lotions after other types of dermal procedures, as some recommend massaging the area and some don't.
THE PUMP ON MY BOTTLE ISN'T WORKING?
Download this Troubleshooting Guide: https://cdn.shopify.com/s/files/1/0633/9778/9927/files/Airless_Pump_Notice.pdf?v=1680724640