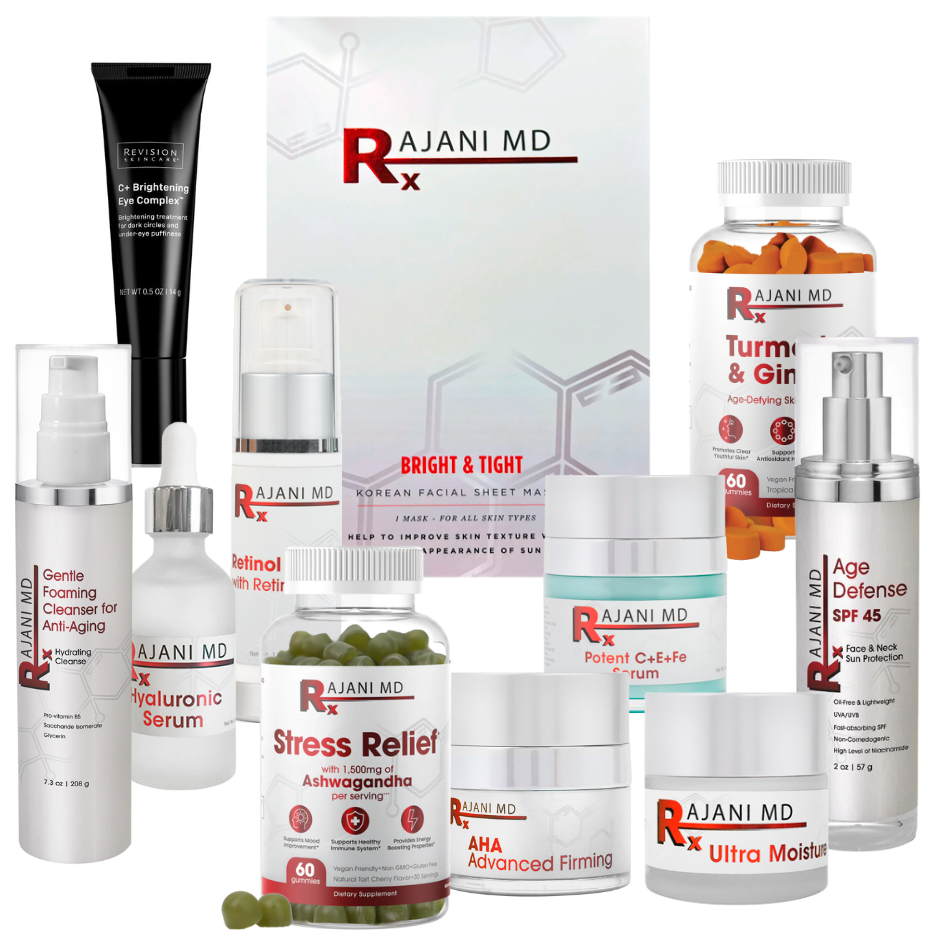 RajaniMD Brightening Collection
Save 20% on Rajani MD Brightening Collection
Your Brightening Collection ::
Brightening essentials for more vibrant, health skin
Benefits ::
Unlock your maximum potential with our beauty collection and save with this convenient bundle!
What's Included:
Age Defense SPF 45
Your new strategy in sun protection
Benefits :: Protects skin from multiple extrinsic factors known to cause premature aging and promotes a smoother, clearer complexion
AHA Firming Cream
A synergistic combination of AHA (Alpha Hydroxy Acids) and BHA (Beta Hydroxy Acid) influences regeneration that revives skin's youthful vitality for brighter, healthier, firmer skin.
Benefits ::
• Significantly reduces the appearance of wrinkles and saggy skin
• Powerful Exfoliating for a renewed Glow
• Enhances absorption of other skin care products
• Helps to improve elasticity, nourishes and hydrates
• Reduces the appearance of pores
C+ Brightening Eye Complex
Comprehensive brightening treatment for dark circles and under-eye puffiness
Benefits :: Leaves the under-eye area brighter, de-puffed, and refreshed
Hyaluronic Acid Serum
A plumping antioxidant that includes Argireline, a Snap 25 Fragment, to help minimize wrinkles directly.
Benefits ::
• Hyaluronic Acid provides instant plumping followed by tightening
• Works in 1-2 minutes and last for hours
• Formula Brightens and Tightens the Appearance of Skin
• Get Your Glow ON!
Korean Facial Sheet Mask
An authentic K-beauty item, custom manufactured in Korea with the richest ingredients for a truly indulgent at-home treatment.
Benefits :: Helps improve skin texture while reducing the appearance of sun damage
Retinol A Serum
Powerful Unique Blend of 3 Retinols - Retinaldehyde, Retinol and Retinyl Palmitate with Vitamin C and Avocado Oil
Benefits :: Visibly Reduces Signs of Aging, Brighten and Rejuvenate Skin
Ultra Moisture
A synergistic combination of soothing oils and antioxidants to replenish skin from active ingredients
Benefits ::
• Instantly reduces the appearance of wrinkles
• Excellent for that "on camera look"
• Antioxidants for a renewed Glow
Turmeric & Ginger Gummies
An excellent source of antioxidants in an adult gummy form
Benefits :: Supports antioxidant health and promotes clear youthful skin
Stress Relief Gummies
An excellent source of Ashwagandha, plus Vitamin D and Zinc in an adult gummy form
Benefits :: Promotes mental calmness, clarity, and balanced moods